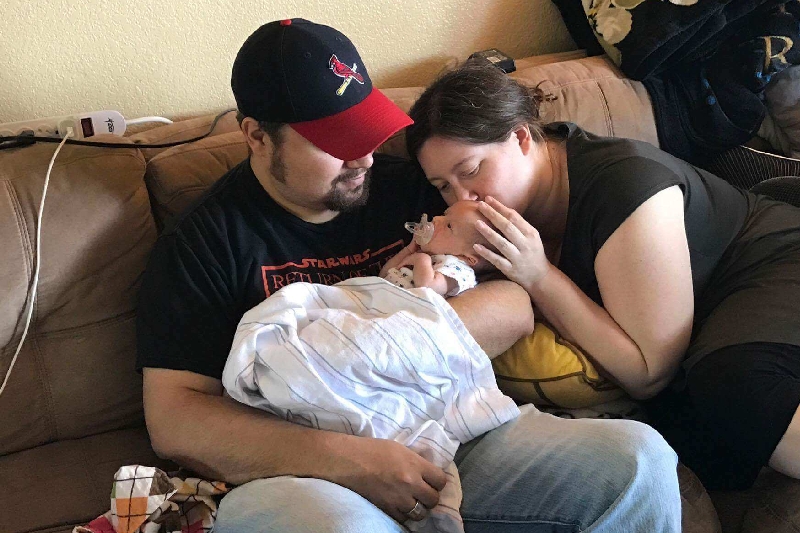 Michael Winingham and Danielle Borsch with Dani.
From Kris Kleindienst, co-owner of Left Bank Books, St. Louis, Mo.: "A couple of weeks ago, my beloved former events coordinator, Danielle Borsch, who had been working for the last few years at Vroman's, took a sales rep job with Norton selling to college professors. She and her partner and four-month-old baby moved to Sacramento for the job one week ago. A few days ago, a fire in the adjacent apartment forced them out and soot and smoke destroyed nearly all their belongings. They had not yet set up renters' insurance and are staying in a hotel while they try to sort out with the landlord and the landlord's insurance. Since they are new to Sacramento, they have no friends or family there, no local support network. They have set up this GoFundMe page."
Kleindienst added that Borsch "began her career in bookselling when she came to work for us in 2008. She was a stellar addition to our team and we were sad to see her go when she and Mike relocated to the Los Angeles area so Mike could be nearer to the film industry. (He writes film scripts). Vroman's was very lucky to gain Danielle, whose most recent job there was managing their satellite store.
"It breaks my heart to think what could have happened to them and that they have lost everything. I don't have to tell you that booksellers and writers live a threadbare existence. Their daughter is just four months old and when they fled the fire, she had only the diaper she was wearing and a blanket."