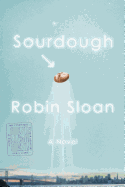 Lois Clary spends her days writing code for cutting-edge robot arms at General Dexterity, a super-hip San Francisco startup, and her nights passed out on the couch in her minuscule apartment. For sustenance, she relies mostly on slippery nutritive gel, until the day she finds a mysterious takeout menu stuck to her front door. Intrigued by the bold font and simple choices (spicy soup, spicy sandwich or a double-spicy combo of both), Lois calls in--and her life will never be the same.

Plagued by constant stress-related indigestion and loneliness, Lois finds antidotes for both in her new (spicy) diet and in the two brothers who run the restaurant out of their apartment. Beo, who answers the phone and cooks, and Chaiman, who delivers her orders, become Lois's lifelines, but must leave the country suddenly because of visa issues. The brothers give Lois an unexpected parting gift: their sourdough starter, tucked into a pottery crock, and a CD of melancholy music to keep it company. Lois has never baked bread in her life, but she begins feeding the starter and experimenting with loaves, and before long, she has a standing order at her workplace cafeteria and a lopsided brick oven in her backyard. Robin Sloan takes readers on a wildly geeky, flour-dusted ride through the strange hierarchies of the Bay Area food and techie communities in his second novel, Sourdough.

Sloan applies the same incisive humor and wit that leavened his first novel, Mr. Penumbra's 24-Hour Bookstore, to the hyper-competitive world of artisan restaurants and farmers markets. When Lois is turned down for a spot at the coveted Ferry Building market, she gets invited to a new (literal) underground one on an island in the bay. Although she's thrilled to have a place to sell her wares, Lois is vaguely troubled by some of the "experimental" food being sold at the market, plus she's not sure exactly who--or what--is behind it all. Meanwhile, life as a code monkey is becoming less and less appealing, as the sourdough starter (and the baking) becomes more demanding. Unsure of her ability to keep up with either one, Lois begins sending SOS e-mails to Beo in Berlin, while using a bright blue General Dexterity robot arm to help increase her sourdough production. The plot bubbles along like Lois's sourdough starter, and the results, in and out of the oven, are surprising.

Mixing equal parts snark and heart with a dash of charm and a sprinkling of mystery, Sloan has concocted a winning story that--like its namesake bread--carries a satisfying tang. --Katie Noah Gibson, blogger at Cakes, Tea and Dreams

Shelf Talker: Robin Sloan's second novel is a wild, geeky, flour-dusted ride through the oddball food and techie communities of San Francisco.