During the Summer of Love 50 years ago, I was 17 and out of it. I watched nightly news snippets about SoL on our black and white TV, which considerably diminished the moment's tie-dyed, surrealistic charms. I read Ian Fleming, not Jack Kerouac.
For me, it was the Summer of the A&P and Summer of Soccer. I stocked shelves, ran the cash register and waited on customers. My co-workers, all much older, loved me because I was efficient, customer-friendly and had short hair. Per regulations, I wore dark slacks, white shirt, brown snap-on bowtie and apron. I was the societal antidote to Flower Power.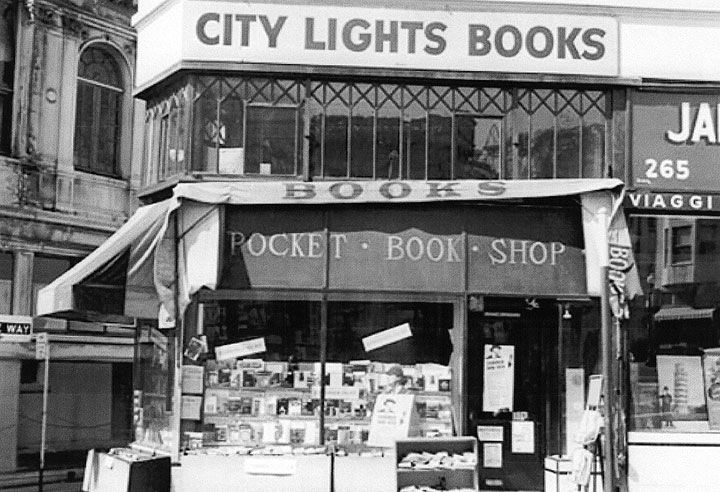 I didn't go to San Francisco until 1987, but by then the damage had been done. I'd inhaled the works of Ferlinghetti, Snyder, Ginsberg, Kerouac and the gang. Naturally, I made the requisite pilgrimage to City Lights Books. It occurs to me now that I might have even said hi to buyer Paul Yamazaki in the bookstore then. Who knows? But it would be another decade-plus before we were officially introduced as fellow booksellers of a certain age at a publisher dinner at BEA in Chicago, of all places (shades of the Summer of '68).
"No bookstore was more influential during that time than City Lights, and it's one of the reasons the bookstore continues to endure today, influencing a new generation in the North Beach neighborhood," San Francisco Travel noted this spring in featuring "six essential books recommended by the staff at City Lights to relive the Summer of Love."
I hadn't thought about SoL for a long time until I read and bookmarked that piece, which was soon followed by a cascade of headlines popping up on Google News: San Francisco, 50 years on from the Summer of Love; Hippies are occupying the museums of San Francisco right now; Summer of Love from the vantage of a participant; Summer of Love and Rage; The secret messages of San Francisco's Summer of Love; Summer of Love lost on those living in Summer of Discontent.
Head-spinning, perhaps even groovy.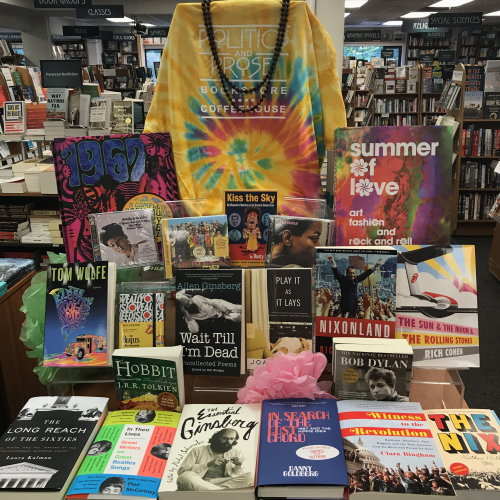 Summer of Love display at Politics & Prose
A couple of weeks ago, I saw that Politics and Prose Bookstore, Washington, D.C., was showcasing the highs and lows of SoL. P&P created a book display to commemorate the anniversary, featuring "recent works about the 1960s as well as some writings from that era"; and limited edition tie-dye P&P t-shirts. The bookstore also noted that a half-century later, "a public activism of a different sort is emerging this summer, reflected in a number of books being released on such hotly debated topics as civil rights, women's rights and immigration."
And then I noticed this: "Did you know that Green Apple Books and the Summer of Love share a birthday? That's right, it's fifty years since we opened our doors.... In case you haven't yet been to the De Young exhibit or seen the Conservatory illuminated, this week we've compiled a list of books to help you fully get into the spirit of the Summer of Love. So crank up the Janis and the Jimi and dig in!"
A few days ago, caught up in my SoL reveries, I recalled that when I was a bookseller in Vermont during the late 1990s, I sold stock at an off-site poetry reading by Ed Sanders, the legendary Sixties figure who co-founded the Fugs and has written: "1967! Yes. It saw a swelling of hope in America. The culture seemed like the swelling bug of a flower of instant promise." (Sanders wrote the song "Summer of Love" for a 20th anniversary concert). Unhip confession: It was only when I met Sanders at that poetry reading, which occurred around the time of SoL's 30th anniversary, that I discovered his historical significance. Still out of it after all those years.
Yesterday, I looked up the Friday, August 4, 1967 edition of the New York Times and saw this headline: "45,000 More Men to Go to Vietnam; Goal Now 525,000." And above Roger Jellinek's review of Robert Conot's Rivers of Blood, Years of Darkness: "Books of the Times: Burn Baby Burn." No mention of hippies or Haight-Ashbury flower children that day.
During my Summer of Love, I played right wing on a summer soccer league team that included college and high school players, along with a handful of Italian and Polish immigrants who worked at the local marble mill. Soccer was my first love. I still recall the precise feel of the ball when I caught it with my instep just right on a corner kick and sent it arcing toward the crowded goal area, as if I were tossing chum into a pool of sharks.
Sometimes a teammate would execute a perfectly timed leap above the roiling surface to meet the ball as it descended, and with a flick of his head deflect it into the upper corner of the goal, beyond the outstretched arms of the flailing goalie. A mad celebration would erupt, with hugs and laughter, almost unbridled joy and, just for an instant in a crazy SoL way, with love.