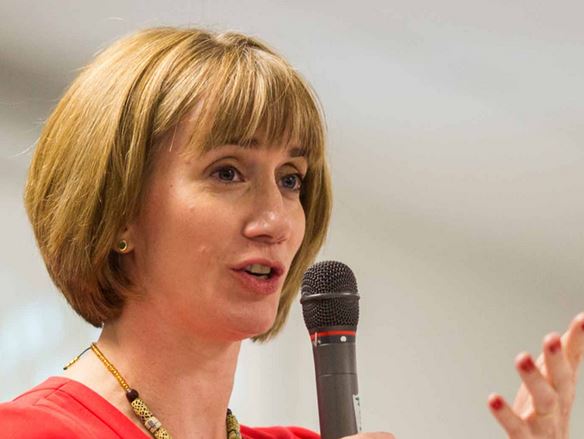 Laura Moser
Bookseller Becky Anderson isn't the only book world citizen who has thrown her hat into the political ring this year. YA author Laura Moser moved from Washington, D.C., back to her hometown of Houston, Tex., in order to challenge Republican incumbent Congressman John Culberson for District 7 in the 2018 election.
A journalist and a writer, Moser is the co-author (with Lauren Mechling) of a YA novel series that includes The Rise and Fall of a 10th Grade Social Climber; All Q, No A: More Tales of a 10th-Grade Social Climber; and Foreign Exposure: The Social Climber Abroad. She also wrote the biography Bette Davis (Life &Times).
After last year's presidential election, Moser founded the activist network Daily Action. Prior to moving back to Houston, she and her husband, Arun Chaudhary, had lived in D.C., where he worked as a videographer and political consultant for President Obama.
In Vogue magazine, Moser wrote: "Our return to Texas, the state that led the charge for eroding women's reproductive rights, could not have come at a more critical time. My grandfather arrived in Houston in 1942 as a refugee from Nazi Germany. He had lost everything—his profession, his language, his money--but the city welcomed him, as it has hundreds of thousands of immigrants over the years. Because of my family history, Houston had always represented to me a place of hope and possibility, where totally dissimilar people could come together and make their own stories. I married a man whose Hindu father grew up in the rural north of India and whose Jewish mother grew up in the Bronx. Our Jewish children, with their father's Indian last name and their mother's bright-blue eyes, were now residents of the most diverse city in America."
Regarding her decision to run for Congress, Moser told the Forward in May: "I wanted to take it to the next level. I happened to be from this Congressional district that voted for Hillary, a lot of split-ticket voters here. They elected the same really right-wing Tea Partier to Congress. There are only 23 districts in the country where that is the case, and we really have to win all of them. And I thought since I have this background, a record of proven activism, that I was in a unique position. I've never wanted to be in politics before, [but] the Senate healthcare panel is 13 men, and I'm just kind of tired of men making decisions about everything. So I just thought, why don't I try? I want my kids to be proud of me, I want to be an example to them. If I'm not happy with what's going on, I try to change it myself."