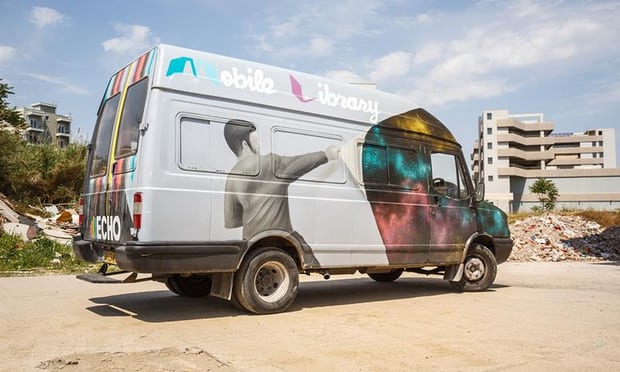 While volunteering in refugee camps in Greece, Laura Samira Naude and Esther ten Zijthoff "realized that the people they met needed more than food and shelter: they wanted to study, to work for their future and to find a sense of purpose," the Guardian reported. In response to the need, they launched Education Community Hope and Opportunity (ECHO) and opened a library on wheels.
After friends in London and Belgium raised funds and refitted an old minibus with shelves and Internet access, they drove it to Greece. Naude and Zijthoff appealed for books in Arabic, Kurdish, Farsi, French, Greek and English, gradually accumulating about 1,300 titles. "When the authorities don't allow access to camps, they park the bus outside and let the word spread inside, although they are often shut down without warning," the Guardian noted.
"When we started the project, we had a vision of duplicating the library setup in multiple regions in Greece," Zijthoff said. "We are looking for people to hand over the project to, but many volunteers and organizations, not only in Greece but Serbia, Italy, Palestine and Lebanon, say the set-up could work very well. So, even if we are not the ones starting, we hope that the concept will spread."