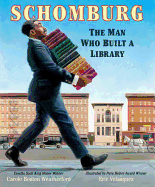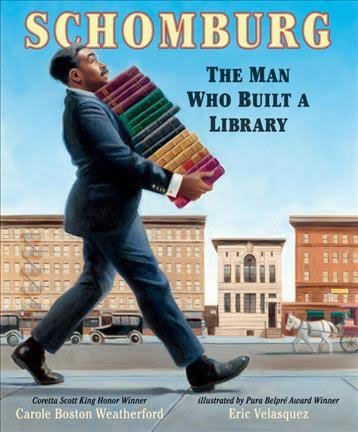 With great respect to the man's riveting life story, Caldecott and Coretta Scott King Honors author Carole Boston Weatherford (Freedom in Congo Square) relates through narrative poetry the story of Afro-Puerto Rican immigrant Arturo Schomburg. While each poem in Schomburg: The Man Who Built a Library can stand alone as a single snapshot in the literary life of Schomburg, Weatherford's portrayal of the bibliophilic law clerk is so wondrous, readers won't be able to resist turning the pages to learn more.

In addition to shedding light on a man who voraciously collected books, letters, art and music created by people of African descent--"Arturo had what he called the book hunting disease./ No one volume told the whole story,/ and no library specialized in the subject"--Weatherford illuminates significant individuals whose art makes up the precious history Schomburg preserved and ultimately curated into the Schomburg Center for Research in Black Culture. She treats readers to fascinating glimpses of poet Phillis Wheatley, abolitionist Frederick Douglass, revolutionary Toussaint Louverture and composer Ludwig van Beethoven: "Gifted beyond belief, Beethoven/ still composed after he'd lost his hearing./ How could this maestro's African heritage/ have been muted?"

Schomburg did not stop at collecting, however. Despite having never attended college, his lectures, research and writing influenced the bedrock of the Harlem Renaissance and ensured that Africans' voice in history would not be silenced, "Arturo's articles, essays, and letters to the editor/ shared what he had learned--facts kept in darkness far too long..../ Schomburg's words give voice to the ancestors./ Their pigment flowed through his pen."

Complementing the lyrical language of Weatherford's words are the richly textured, bold paintings of another successful Afro-Puerto Rican man from Harlem, Pura Belpré Award-winning illustrator Eric Velasquez (Ol' Clip-Clop). The detail and majesty of Velasquez's art eases readers' progress through the pages as they focus in on style and design, his illustrations conveying wonderful layers of meaning likely to spark imagination and thoughtful reflection.

Young readers as well as parents, teachers or librarians can certainly enjoy the poems alone, but just as Schomburg found great satisfaction in sharing his library with others, there is a special exhilaration in exploring his life communally. Additionally, his determination and goals, the works he accumulated and his life's accomplishments are perfect for opening dialogue and advocating further exploration.

Picking up Schomburg's torch almost a century later, Weatherford and Velasquez are continuing to ensure that African history isn't lost: Schomburg started the collection and his pigment flows through others' pens as he becomes a significant part of his own narrative. --Jen Forbus, freelancer

Shelf Talker: Two African-American scholars have written a poetic biography of Arturo Schomburg, an immigrant who curated a library to prevent the disappearance of African voices from history.