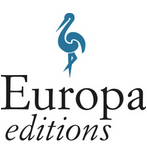 Europa Editions' titles will be sold and distributed to the trade by Publishers Group West, effective February 2018. Europa signed a multi-year deal with PGW for distribution in the U.S., Canada and international territories excluding the U.K., Ireland and Italy. Europa will leave Penguin Random House Publisher Services after three years. Prior to PRHPS, Europa was distributed by Penguin Group.
"PGW is bringing great enthusiasm and new energy to our list and our business," said Michael Reynolds, Europa's editor-in-chief. "The PGW reps are beloved and respected by booksellers everywhere, and now as part of Ingram they have the backend support they need. We made a decision based on what was best for our authors, their books, and our business. The Penguin Random House reps, some of whom have been selling our titles for almost 10 years, have done an amazing job getting us to this point, and we're indebted to them. Now, all of us at Europa are energized by the prospects for growth and the greater visibility that PGW and Ingram offer."
Kevin Votel, v-p business development for PGW, commented: "Europa is widely recognized as one of the premier publishers of literature in translation and given the current climate, there's no better time to support and sell this wonderful list of diverse and original voices. Europa's publishing is truly inspired and we are thrilled to have the opportunity to grow their audience."