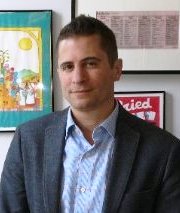 Jason Wells
Jason M. Wells has joined Rodale as associate publisher, director of marketing and publicity, for the Rodale Kids imprint.

He was formerly v-p, marketing and publicity, at Simon & Schuster Children's Publishing.

Before that, he worked at Abrams for 14 years, most recently as executive director, publicity and marketing, at Abrams Books for Young Readers. He worked, for nearly a decade, on the Diary of a Wimpy Kid series. Wells also worked on books by Tom Angleberger, Cece Bell, Graeme Base, Nathan Hale, Andrea Beaty, Laurent de Brunhoff, Laura Numeroff, Michael Buckley, Trombone Shorty, Mac Barnett, Tonya Bolden, Duncan Tonatiuh and Lauren Myracle, among others.

Earlier he worked at Simon & Schuster, Disney and Penguin Random House.

"Jason knows how to create homegrown successes and manage huge properties, which is what we need to build the Rodale Kids imprint going forward," said Gail Gonzales, v-p, publisher at Rodale. "He's a natural fit for Rodale's healthy, mindful messaging--he does bike to work every day, after all--and his knowledge will be a huge asset to our already amazing children's book publishing team."