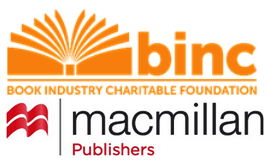 The Book Industry Charitable Foundation and Macmillan Publishers have announced the winners of the Macmillan Booksellers Professional Development Scholarship, which was created earlier this summer to provide professional development to booksellers from groups traditionally underrepresented in the industry. The nine winners will receive scholarships of up to $500 each to attend a regional booksellers association trade show. The winners are:
The scholarship was open to applicants with regular part-time or full-time employment at a bookstore belonging to a regional booksellers association who fit at least one of the following categories: a person of color, someone who identifies as lesbian, gay, bisexual, transgender or queer, or a person with disabilities. Applicants had to answer three brief essay questions that were then evaluated by a panel of Binc board members, booksellers, bookstore owners and publishers.
"Creating positive changes to increase diversity is a shared responsibility in the bookselling industry," said Pamela French, Binc's executive director. "Partnering to help diverse booksellers participate in the important conversations taking place at regional gatherings is a great way for Binc and Macmillan to leverage their resources."
"The personal testimonies were all very compelling and I had a tough time rating the applications," said Angus Killick, co-chair of the Macmillan Diversity & Inclusion Council and v-p associate publisher of Macmillan Children's Publishing Group. "These booksellers are incredibly committed to what they do, and the difference they know they can make."