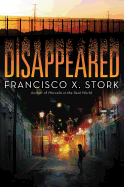 "Maybe in other cities in the world, a young woman can be one hour late and it isn't a cause for worry. In Juárez, that is simply not possible." In Juárez, Mexico, the bodies of girls who don't come home often are found months later. Sara Zapata's best friend, Linda, went missing four months ago. She's now one of the Desaparecidas, the Disappeared. Sara is determined not to give up on Linda and uses her position at a local newspaper, El Sol, to tell Linda's story and the stories of countless other Desaparecidas throughout Juárez. Though Sara has been threatened for her journalism before, she is shaken when the latest threat comes in to her bosses at El Sol: "If you publish anything of Linda Fuentes we will kill your reporter and her family." For the first time, she realizes her journalism may also put her mother and little brother, Emiliano, in danger. Still, Sara hasn't published a story about Linda since her first article after Linda's disappearance. Why would someone threaten her now?

While Sara begins to investigate the threat, Emiliano faces challenges of his own. After a close brush with the law, only Brother Patricio's intervention saved Emiliano from jail. With Brother Patricio, Emiliano founded the Jiparis, "a Mexican version of the Boy Scouts" and found a way to channel his anger into healthier, more productive outlets. Now Emiliano even has his own business: some of the other Jiparis are talented artists who make crafts that Emiliano sells to local business owners to be resold to tourists, splitting the profits with his craftsmen. He hopes the money he earns can help his family, and also help him finally win over Perla Rubi's wealthy family. His friends think he's crazy, but Emiliano knows Perla Rubi cares about him as much as he cares about her. A chance meeting with her father leads to a startling business proposal, but Emiliano isn't sure he wants to be involved. Still, Mr. Esmeralda reasons, "There's no way to be successful in Mexico without getting dirty. The best one can do is control the degree of dirt."

As Emiliano's fortunes take a turn, Sara's persecution becomes more real and both siblings face decisions and consequences that will alter their lives forever. Disappeared by Francisco X. Stork (Marcelo in the Real World; The Memory of Light) is a gripping, ripped-from-the-headlines tale of trafficking and the risks one must take to uncover truth. Juárez, alternately glittering and gritty, is "like a spiderweb. Every thread is connected directly or indirectly to every other thread." Stork makes fantastic use of the tightly-focused perspectives of Emiliano and Sara; as Emiliano tentatively steps into the web and Sara desperately tries to stay out of it, Disappeared will have readers wondering whether either can escape. --Kyla Paterno, former children's and YA book buyer

Discovery: In Juárez, Mexico, a journalist searching for her missing best friend finds her life threatened while her younger brother learns the cost of joining Juárez's upper class.