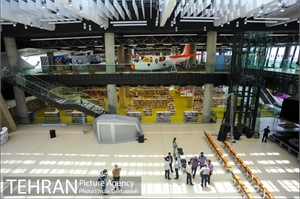 A nearly 700,000-square-foot complex called the Tehran Book Garden opened in Tehran, Iran, earlier this summer, Travel and Leisure reported. The complex includes not only several bookstores catering to different age groups but also a theater, display halls, research halls, an art gallery, a prayer room, a restaurant and a robotics club. The Tehran Book Garden will additionally be home to book festivals, author signings, painting workshops and more cultural and artistic events.
The project was envisioned as a "year-round alternative" to the annual Tehran International Book Fair, and during a ceremony celebrating the opening of the Tehran Book Garden, Iranian parliament speaker Ali Larijani said it "aims to teach our children to be active and creative through modern methods and equipment." It is one of about 1,500 bookstores left in the country; according to the World Economic Forum the decline in bookstores was brought about by the Iranian government's strict censorship of writing and literature.
The Book Garden is so large it may also be in the running for the Guinness World Records title of largest individual bookstore in the world, if it is eligible, Travel and Leisure noted. The previous record holder was the now-closed flagship Barnes & Noble on Fifth Avenue in New York City that was 154,250 square feet.