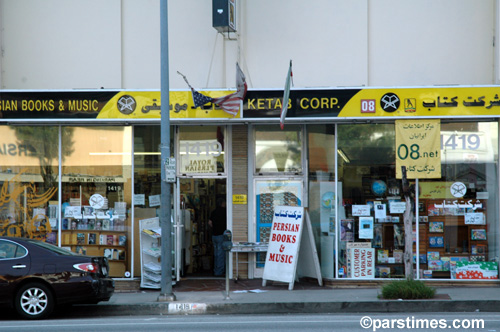 The Iranian bookstore Ketab Corp. in Los Angeles has closed after 36 years in business. Jacket Copy reported that the shop on Westwood Boulevard "held roughly 85% Persian titles as well as books in English about Iran." Owner Bijan Khalili described his customer base as "Persians and those Americans that are interested in Persian culture."
Khalili noted that his decision to close was based in part on the fact that "the new generation does not speak Farsi, does not read Farsi," as well as other factors familiar to many indie booksellers: "Very simple. I rent. No parking. Amazon." Ketab Corp. will continue selling books online via its website.
Khalili was featured last month on PRI, which reported that he "knows plenty about [the late poet Forugh] Farrokhzad and Iranian censorship. Banned books are a specialty of his.... It started as a simple service to exiles who had fled Iran's revolution, leaving their books behind. But as post-revolutionary censorship took hold in Iran, selling books untouched by Iran's censors became a daily act of defiance."
"Reading books is a human right," he said.