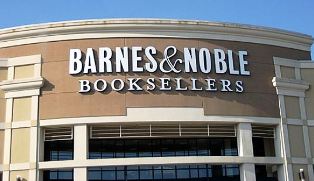 One bright spot in Barnes & Noble first-quarter results, reported yesterday morning, is that trade book sales had its "best quarterly sales performance in two years," CEO Demos Parneros said in a conference call yesterday with stock analysts. Moreover, excluding when Harry Potter and the Cursed Child was released, children's books had its best quarter in 10 quarters.

He said also that the company is "excited by a number of our new titles being released by bestselling authors throughout the fall, including Dan Brown's Origin, John Green's Turtles All the Way Down, Hillary Clinton's What Happened and Ken Follett's A Column of Fire."

Besides an array of programs to refreshen stores, improve merchandising and strengthen customer service, B&N is "reviewing our entire portfolio in identifying opportunities to open new stores in new markets as well as opportunities to relocate stores as their leases expire instead of simply vacating markets," Parneros said. "Our goal is to position the company for net store expansion," which he estimated would happen in early 2019.

He added: "We're not afraid to close an underperforming store or two. I will tell you that our portfolio is pretty healthy right now since the team's done a fantastic job of managing costs and expenses while sales have been down slightly over the last couple of years. But we've held the line pretty well. Obviously the priority is to get top line going. We've got well over 100 leases that are up for renewal over here for the next several years and we're in a good position to make the right decisions on either renewing or relocating. In the past couple of years, we have closed some stores in markets we like very much. So we've got our eyes on those markets. There are also some very attractive targets where we don't have stores."

Parneros noted, too, that B&N has been developing "a smaller and newer very exciting store prototype that is almost ready but not quite there yet."

The company has also been testing a "ship-from-store program" that offers online customers quicker delivery times and "the ability to shop our vast bookstore inventory through BN.com." The test has been expanded to 60 from four stores.

The company also provided more information about sales in parts of the company and comp-store sales. While overall sales at stores open at least a year were down 4.9%, books fell only 2.9% while nonbooks were off 8.8%. Online sales dropped $7 million and Nook sales fell 28% "on lower content volume as well as lower average device selling prices," according to CFO Allen Lindstrom.

There was one light moment in the conference call. Asked about whether the two new concept Barnes & Noble Kitchen locations, which include bar service, have led to book sales increases by customers who drank some beer or wine at lunch, Paneros said, "Well, if it was that easy, we'd roll out the six packs."