Green Apple Books' 50th Anniversary Jubilee on Wednesday night at San Francisco's Great American Music Hall opened with a live burlesque act (pasties and all) and closed with Thao Nguyen, the lead singer of Get Down Stay Down, inspired by Marilynne Robinson's Gilead, performing a haunting, taunting and revelatory song about a father she has not spoken to in years. In addition, the City by the Bay was in the middle of mini-heat wave, and the venue--built in the post-1906 earthquake era and originally named for a Barbary Coast house of prostitution--has no air conditioning. Thus, Emma Donoghue's Frog Music, a literary mystery based on a real unsolved murder in the 1876 boomtown built on free love and bohemianism, where paupers and millionaires rubbed elbows amid a record-breaking heat-wave and smallpox epidemic, kept coming to mind.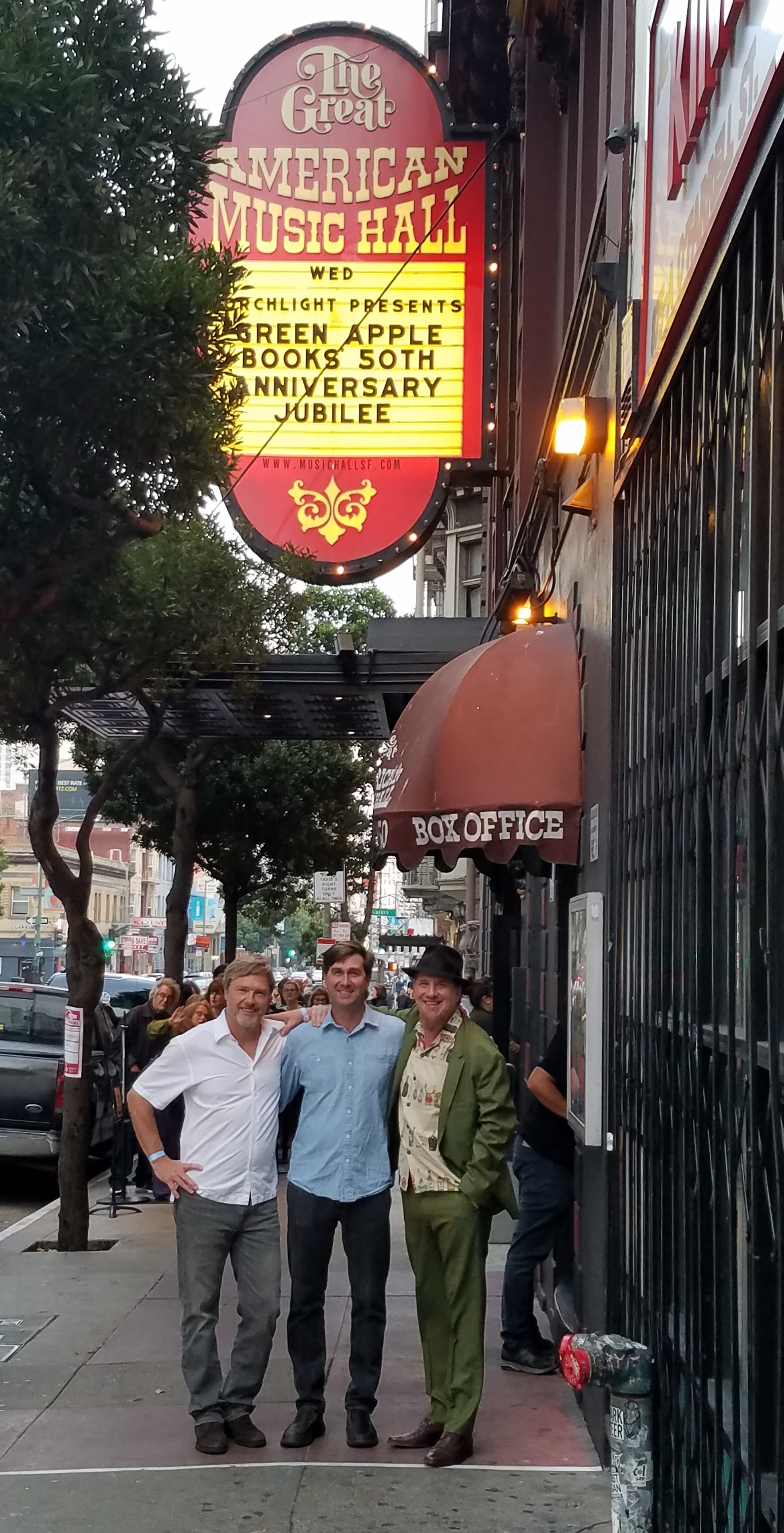 Green Apple owners Kevin Ryan, Pete Mulvihill and Kevin Hunsanger
Beth Lisick and Arline Klatter, cofounders of the Porchlight Storytelling series (which is celebrating 15 years of monthly open mics where personal narratives find their own poetry) served as masters of ceremonies. Illustrator Wendy McNaughton (Salt, Fat, Acid, Heat: Mastering the Elements of Good Cooking, Simon & Schuster, April 2017) was cheered when she proclaimed being born in San Francisco, booed when she admitted her family soon moved to Marin, and won the crowd back again when she shared--with illustrations--how she and her two best teen girlfriends began a lifelong love of discovery among the stacks and even up the stairs at the bookshop on Clement Street. "Green Apple, to me, meant access," she proclaimed.
Robin Sloan recalled finding refuge from an apartment overrun with books by taking a sharp left outside to peruse the Green Apple paperback bookshelf, where he hoped someday to find his own fiction--and somehow it made sense that his debut novel would be Mr. Penumbra's 24-hour Bookstore. "Green Apple doesn't distribute books, they actually call them forth," he said, "stacked up like peaches."
Michael Krasny--author, English professor and host of KQED's Forum--brought Green Apple owners Kevin Ryan, Pete Mulvihill and Kevin Hunsanger on the stage for a conversation with store founder Richard Savoy, noting the unusual arrangement Savoy made for a gradual buyout of the business by the long-time employee triad that began in 1999.
Krasny asked them to recount an unusual happening at the store. Savoy shared that Jim Jones of the People's Temple could be annoying with his bodyguard in tow. Ryan recalled the time a "downtrodden fellow" died there, but his friend explained that he was the kind who'd choose books over his own accommodations, so it seemed a fitting end. Mulvihill said he was once pulled away from "composing a tweet" by a call about a returned package that did not seem to have originated at Green Apple, which turned out to contain five pounds of marijuana. "I left early that day," retorted Hunsanger.
Green Apple now has a second, less creaky-floored and much sleeker-designed store in San Francisco, a great addition to the bookselling community. But the jubilee was mostly a celebration of the original store built on savvy paperback and front list buying and loyal reading customers. Lots of those paperbacks are priced at 25 cents, said Hunsanger, "because everybody deserves a chance to read a book."
Later in the evening Mary Roach joined the Porchlight gals on stage to read aloud a "Greatest Hits" of things stuffed into the pages of used books sold to Green Apple over its 50 years. The first was a note composed by a man named Will, whom Roach noted, surprisingly dotted his "i" with a circle, and was thanking someone for allowing him to spend the night with an apology "if the Steppenwolf in me" came out in bed. "They have multiple binders full of these notes," said Roach, which seemed a fitting record for Green Apple--a democratic institution of ideas in a city founded on free love and bohemianism where paupers and millionaires might rub elbows among the stacks, although minus the smallpox. --Bridget Kinsella Tiernan