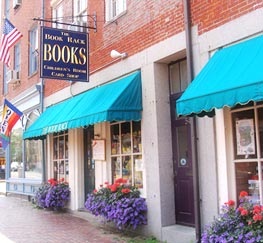 HugoBooks, whose bookstores include the Book Rack Bookstore, Newburyport, Mass., has bought the Atomic Café location next door to the Book Rack and renamed it Café Magna.

Atomic Café owners Andrew and John Mahoney continue to operate two other Atomic Cafés, in Marblehead and Beverly, and are expanding their wholesale coffee roasting and cold brew operations and couldn't give the Newburyport café the time and attention it deserved.

HugoBooks owners John Hugo and Catalina Cuervo have offices on the second floor above Magna Café and live with their two young children on the third and fourth floors of the building, which the Hugo family owns. "When approached by the Mahoneys about a possible sale of the café, it just seemed like a natural fit to take it over," Hugo and Cuervo said. The Mahoney brothers have agreed to "a lengthy and comprehensive training program through the fall."

Eventually Hugo and Cuervo plan to open Magna Café earlier in the morning, add music and book events at night and "of course whatever else the loyal Atomic patrons think we should change or improve!"

HugoBooks also owns Cabot Street Books in Beverly (attached to an Atomic Café), Spirit of '76 in Marblehead, and Campus Collection and Andover Bookstore, both in Andover.