Irma evacuees Karen and Fred Roby with Stephanie Crowe
Because of Hurricane Irma, Karen Roby of Writer's Block Bookstore in Orlando was stranded in Evergreen, Ala. She and her husband, Fred, were invited to come to Page and Palette in Fairhope and stayed with bookseller Stephanie Crowe. When Karen and Stephanie headed to New Orleans for the Southern Independent Booksellers Alliance Discovery Show (which starts today), Fred returned home to clean up. He reported that a tree fell on their carport, but otherwise the house was not badly damaged and has just a few leaks.
On Wednesday, Writer's Block posted on Facebook: "We are OPEN! We have POWER! We have A/C! We have WIFI! We also have BOOKS!"
---
Most Books & Books stores are open, too. On Facebook, the store said, "Our Coral Gables, Miami Beach, Bal Harbour, and Arsht Center Books & Books stores and cafés are officially reopened! Events through the remainder of the week will be rescheduled. Welcome back bibliophiles."
The Bookstore in the Grove, Coconut Grove, is still closed. It said on Facebook that it is waiting for power to return, at which point it will reopen. "The Bookstore is thankful Hurricane Irma has passed & we are safe."
---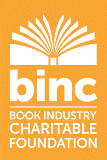 "To help the monumental recovery efforts ahead" following Hurricanes Harvey and Irma, Politics and Prose, Washington, D.C., is donating 20% of the store's sales this coming Saturday, September 16, to Direct Relief, which is providing medical and other assistance to communities struck by the hurricanes. Then, on the following Saturday, September 23, 20% of store sales will be donated to the Book Industry Charitable Foundation (Binc).
In a similar kind of campaign but one that's not related to the hurricanes, Politics and Prose will donate 20% of its sales on Saturday, September 30, to an effort spearheaded by Kymone Freeman and the We Act Radio station plans to establish a bookstore in the Anacostia neighborhood of Washington, an area without a bookstore. The store will be called the Charnice Milton Community Bookstore, named after a 27-year-old community journalist killed two years ago at a bus stop by a bullet that police suspect was intended for someone else. At 3:30 p.m. that Saturday, Freeman will be at Politics and Prose and will be discuss the fundraising drive with Derek Hyra, author of Race, Class, and Politics in the Cappuccino City, a book about the capital's changing neighborhoods.
---
Simon & Schuster has extended its relief assistance programs for bookstores, libraries and schools in Texas following Hurricane Harvey to bookstores, libraries and schools in Florida, other affected states and U.S. territories in the Caribbean following Hurricane Irma.

Under the program, S&S will provide retail accounts damaged by Hurricane Irma free multiple copies of 20 new releases and bestsellers "to help them attract customers as they restore their businesses to normal operating conditions."

The company is also offering to any public or school library damaged by Hurricane Irma a donation of 250 "best of" titles to help in the restoration of their collections. For more information, e-mail S&S at education.library@simonandschuster.com.

S&S continues to work with national and local nonprofits such as First Book to provide books to children and adults displaced by Hurricane Harvey and is expanding those donations to include people affected by Irma.