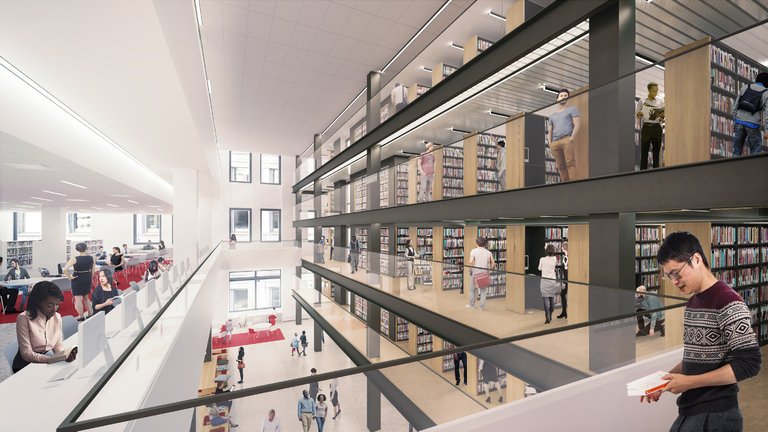 image: Mecanoo/Beyer Blinder Belle
The Stavros Niarchos Foundation is partnering with the New York Public Library and the City of New York on the complete renovation of the system's largest circulating branch, Mid-Manhattan Library. The foundation's $55 million gift will support the creation of a modern, central branch and help establish a "Midtown campus" that will reconnect the circulating library with the NYPL's research center, the Stephen A. Schwarzman Building. The gift also establishes an endowment for programming at the renovated library.
The Mid-Manhattan Library renovation is expected to be complete in 2020, when the building will reopen as the Stavros Niarchos Foundation Library, "a testament to the importance of this gift as well as the Foundation's extensive previous support," the NYPL said. The foundation has supported the library with grants of over $60 million. The library's board of trustees executive committee approved the renaming at a recent meeting. The $200 million renovation is being funded with $151 million in city capital funds, as well as the foundation's private gift.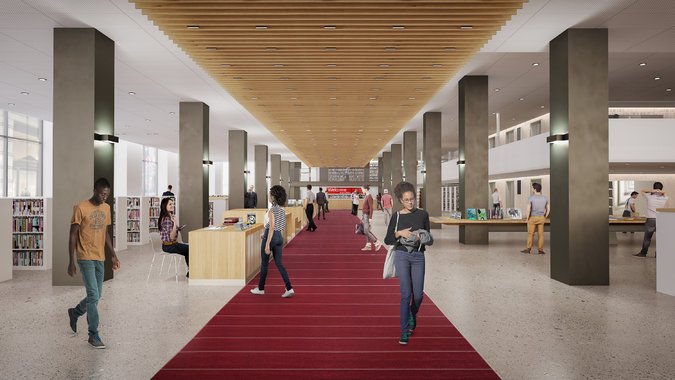 image: Mecanoo/Beyer Blinder Belle
"This gift is a culmination of the Stavros Niarchos Foundation's long-standing and unwavering commitment to libraries around the globe," said NYPL president Tony Marx. "We are so appreciative of the Foundation's generosity, vision, and support as we transform our largest central branch into the library New Yorkers deserve and have never had. The project--also supported by our partners in New York City government--will allow for more use and a better flow of ideas and learning back and forth across Fifth Avenue."
Andreas Dracopoulos, co-president of the Stavros Niarchos Foundation, said, "We are very proud of this new partnership with NYPL, which continues a long and impactful collaboration. Our shared vision is that this landmark gift will not only transform one of the city's most democratic and accessible spaces, Mid-Manhattan's central circulating branch, but will also create a hub of knowledge, creativity, and innovation in the center of one of the world's greatest cities."
The New York Times noted that the gift and renaming "are the latest development in the library's recalibrations following the withdrawal of its Central Library Plan, which would have involved selling the Mid-Manhattan branch, housed in a former department store, and moving its functions into the Schwarzman building. That plan, which included a design by the British architect Norman Foster, drew substantial criticism from pundits, scholars and the general public, and was abandoned in 2014."