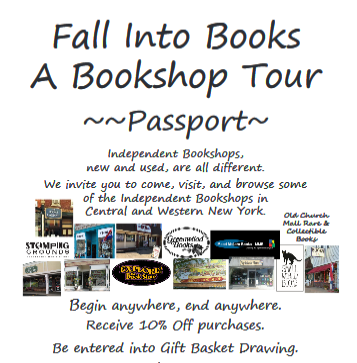 Thirteen independent bookstores in the Rochester, N.Y., area have created Fall into Books--A Bookshop Tour, which will be held through the month of October. Bookstore "tourists" are encouraged to pick up a tour passport at the first participating store they visit (or print out a passport online), then collect stamps at each store they stop at. For every store visited, they are eligible to win one of two gift baskets, and at any of the stores visited with the passport, the customer receives a 10% discount on purchases.
The stores wrote: "Much of the news lately is about the demise of retail, and especially the oft-told tale of bookstores going out of business. These 13 bookstores are out to show that they are here to stay! By visiting each store you can learn how much variety there is between bookstores--each one is unique with completely different types of books stocked and unique products that are not available elsewhere!"
Participating stores are Books, Etc. in Macedon; The Book Centre, Spencerport; Explore! The Bookstore, Clifton Springs; The Books Landing, Penn Yan; Greenwood Books, Rochester; The Dog Eared Book, Palmyra; Lift Bridge Bookshop, Brockport; The Paperback Place, Canandaigua; Mood Makers Books, Rochester; Village Bookmarket, Palmyra; Small World Books, Rochester; Yesterdays' Muse Books, Webster; and Stomping Grounds, Geneva.