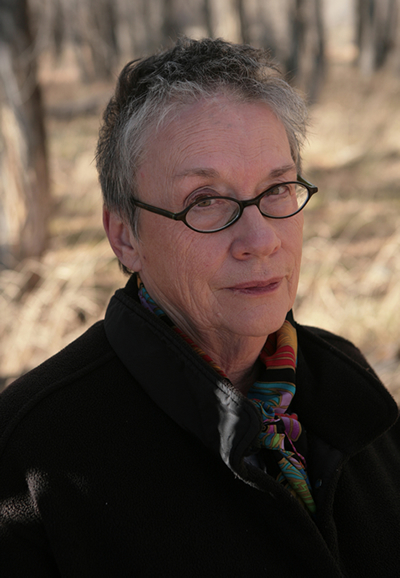 Annie Proulx
(photo: Gus Powell)
The National Book Foundation is awarding the 2017 Medal for Distinguished Contribution to American Letters to Annie Proulx "for her exceptional work and significant impact on American literature." She will receive $10,000 and a brass medal at the 68th National Book Awards ceremony and benefit dinner on November 15 in New York City.
The award will be presented by actress Anne Hathaway, an avid reader and longtime advocate for women in the arts who starred in the Oscar-winning film adaptation of Proulx's short story "Brokeback Mountain."
"Annie Proulx's work is widely loved and uniquely significant," said David Steinberger, NBF chairman, adding that the author's "deep reverence for the beauty and complexities of rural America has introduced millions of readers to the wide breadth of American life. Her commitment to crafting compassionate, honest stories has left an indelible mark on literature and created a powerful and enduring legacy."
Lisa Lucas, NBF executive director, said that Proulx's "ability to explore the nuances of the human spirit and render deeply moving reflections on rural life have solidified her place in American Letters. In addition to her astounding literary accomplishments, film adaptations of Proulx's work have reached scores of viewers who may not have encountered her work on the page. We are honored to pay tribute to the extraordinary source material for these celebrated visual works, and, hopefully, to further grow the audience for Proulx's exemplary literary work."
Proulx's books include the novels Postcards, The Shipping News, Accordion Crimes, That Old Ace in the Hole and Barkskins; short story collections Heart Songs and Other Stories, Close Range: Wyoming Stories, Bad Dirt: Wyoming Stories 2 and Fine Just the Way It Is: Wyoming Stories 3; and Birdcloud: A Memoir of Place.
Her many accolades include the Pulitzer Prize in fiction, the National Book Award, the PEN/Faulkner Award for Fiction, O. Henry Awards Prizes, and a Guggenheim Fellowship for Creative Arts. She is the 30th recipient of the Medal for Distinguished Contribution to American Letters.