At the New England Independent Booksellers Association fall conference, which took place September 18-20 in Providence, R.I., the New England Children's Bookseller Advisory Council (NECBA) held a variety of children's and YA events at which the community of children's booksellers, authors, illustrators and reviewers banded together to promote books that forge bonds across and through boundaries. (More on other parts of the show later this week.)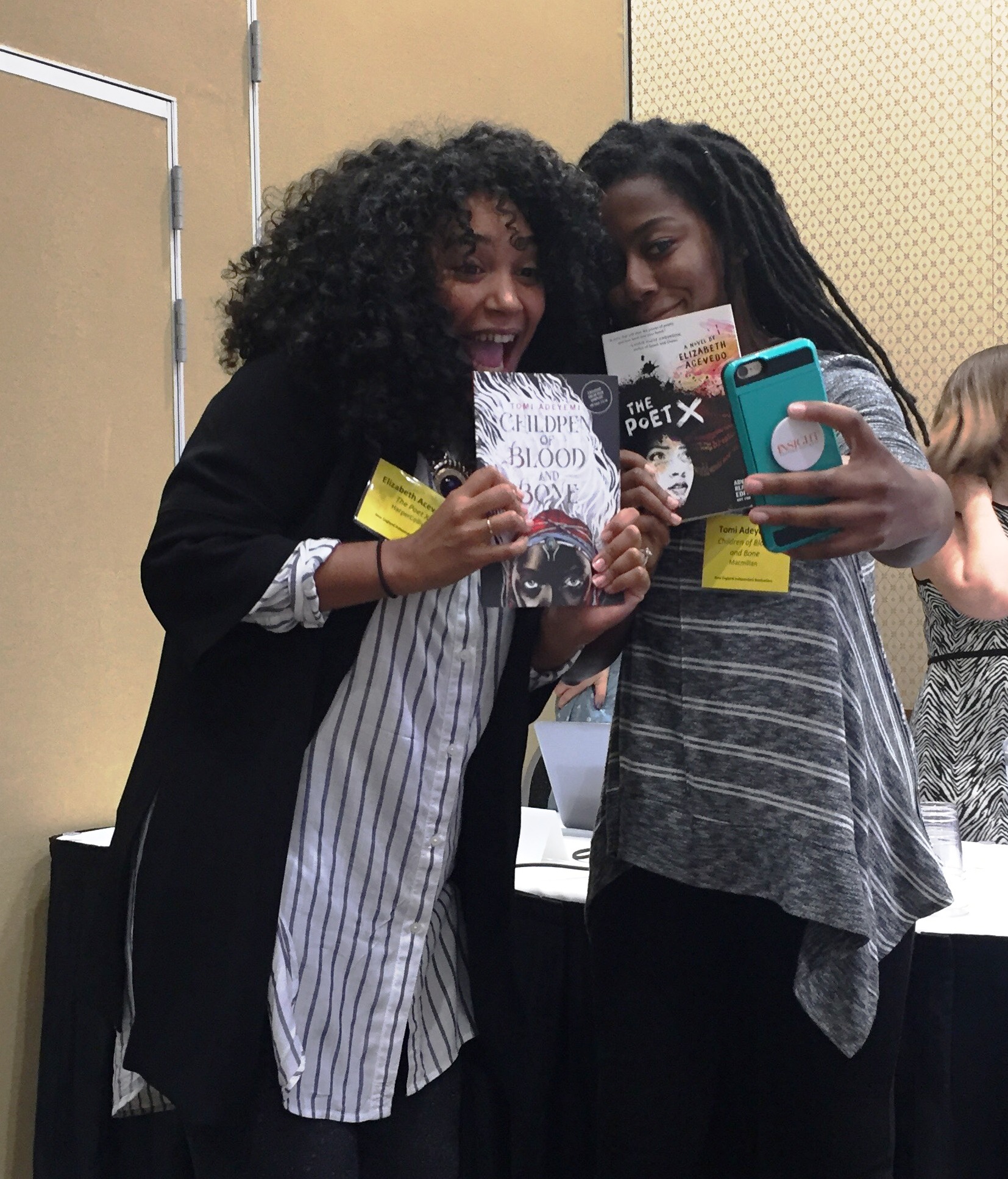 At NECBA's Signing to Signings panel: Elizabeth Acevedo and Tomi Adeyemi pose with each other's new books.
One example: the Windows and Mirrors Project, an annual list created by a NECBA committee to honor books that exemplify diverse viewpoints, experiences and identities. The books chosen by this year's committee--which included Robin Gross from Books on the Square, Providence, R.I.; Zazu Galdos-Shapiro of The Bookloft, Great Barrington, Mass.; Alex Schaffer from Brookline Booksmith, Boston; Rebecca Wells from Porter Square Books, Somerville, Mass.; Beth Wagner of Phoenix Books, Essex, Vt.; and Sara Hines from Eight Cousins Books, Falmouth, Mass.--were presented at the NECBA Picks session by NECBA co-chairs Sara Hines and Beth Wagner. (Here is 2016's list.) They also unveiled the project's new logo, created by author and illustrator Grace Lin.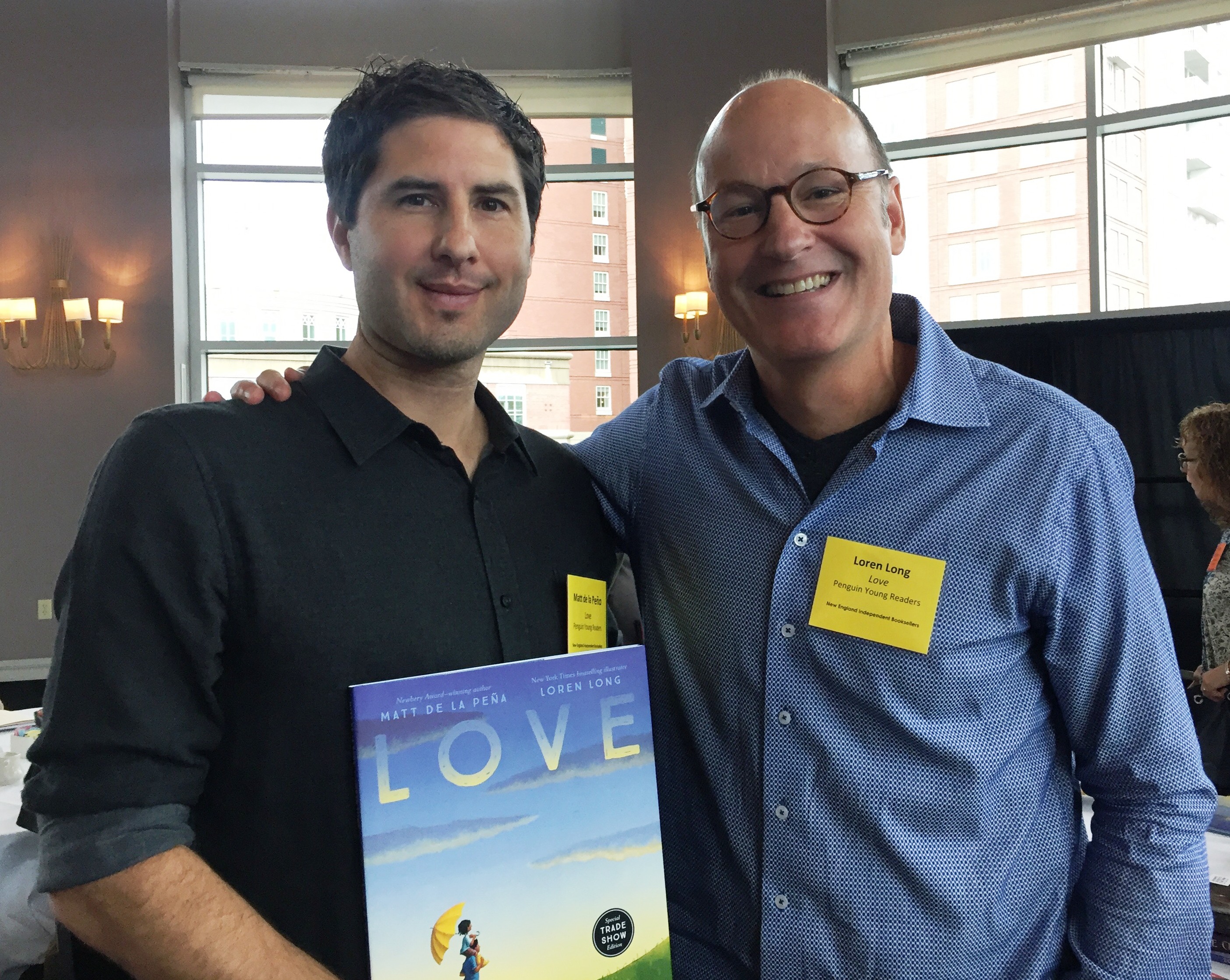 At the children's author breakfast: author Matt de la Peña and author/illustrator Loren Long presenting Love, their forthcoming book from Penguin.
The Children's Author and Illustrator Breakfast featured five authors with upcoming titles. In a surprisingly touching (and unsurprisingly funny) presentation, Matt de la Peña (Last Stop on Market Street) and Loren Long (Good Day, Good Night) shared their new collaboration, Love (Penguin, January 16, 2018). Justina Ireland spoke passionately about her upcoming book, Dread Nation (Balzer + Bray, April 3, 2018), and weeding out the roots of systemic racism in the children's literature community. She said Dread Nation purposefully features a heroine all readers can believe in, but who young girls of color especially may see themselves in. Holly Black (The Darkest Part of the Forest) described her new work, The Cruel Prince (Little, Brown, January 2, 2018), as a "strange juxtaposition of the unreal and the very real"--"magic and milk bottles." A "reverse changeling story," Black's work focuses on two human children trying to find their place in a fairy court.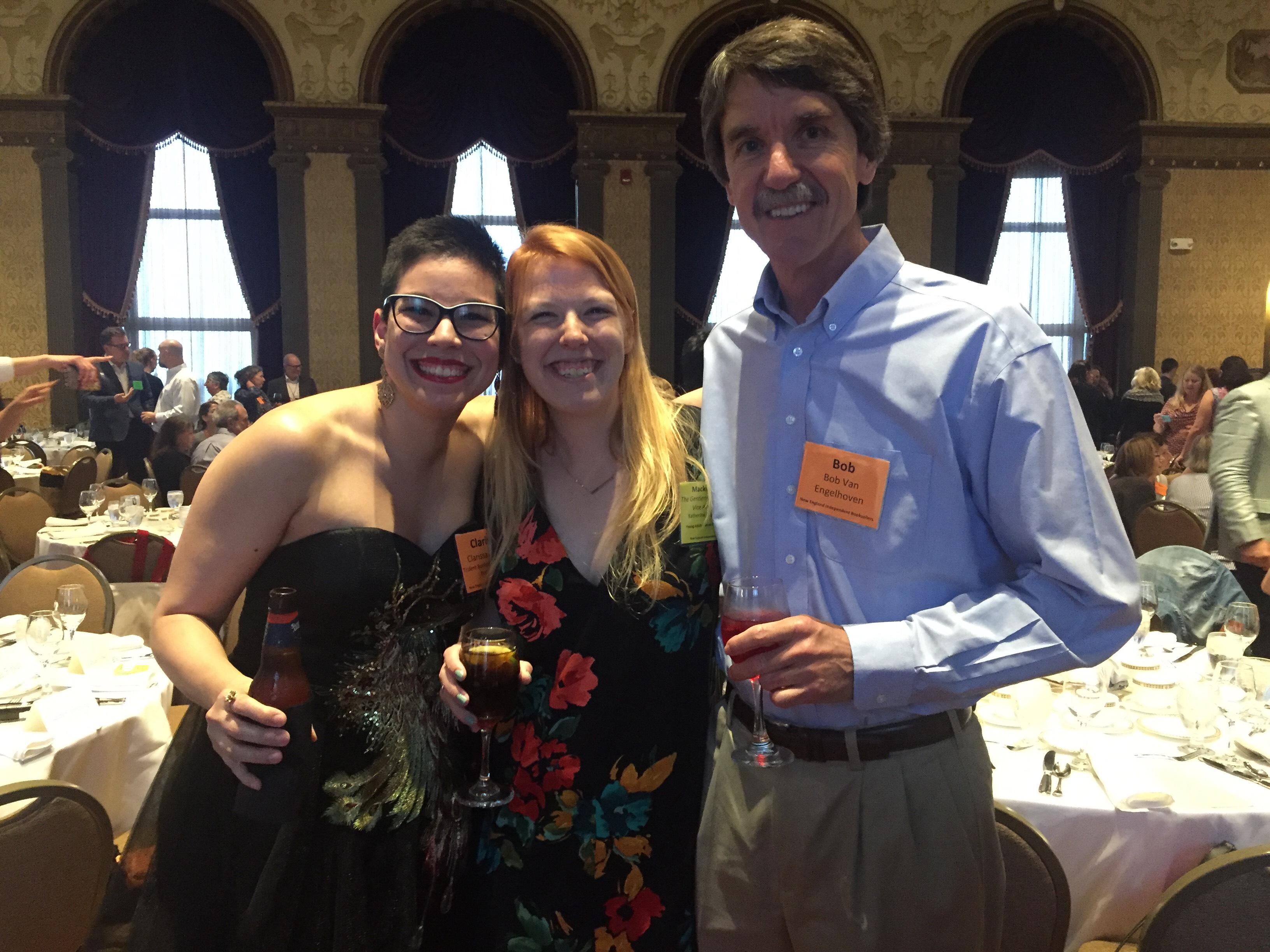 At the NEIBA Awards banquet: Clarissa Hadge of Trident Booksellers, Boston, author Mackenzi Lee and Lee's father, Bob Van Engelhoven
At the New England Book Awards banquet, Mackenzi Lee, winner of the Young Adult New England Book Award for The Gentleman's Guide to Vice and Virtue (Katherine Tegen Books), gave an energetic speech expressing her love for the indie bookseller community and saying, "part of my job as a writer of historical fiction for teens is... telling them... that people like them have always existed. Not only always existed, but they have lived and loved and triumphed and been part of the narrative." The winner of the Children's New England Book Award was Melissa Sweet (Some Writer!, HMH Books for Young Readers), who was unable to attend due to a scheduling error.
NECBA's "From Signing to Signings" panel featured two debut young adult authors speaking about their journey to publication. Elizabeth Acevedo's new work The Poet X (HarperTeen, March 6, 2018) is, in her words, unapologetically "gendered." She said she loves the cover of her book, which features a young black woman who looks strikingly like Acevedo, because she wanted it to be seen as a book that "is for you"--she wanted young women of color immediately to see themselves reflected back. Tomi Adeyemi (Children of Blood and Bone, Holt, March 6, 2018) followed this up: "I've seen more covers [depicting young black people] like [The Poet X] and [Children of Blood and Bone] in the past 12 months than ever before." She went on to say that "people understand how important it is" to diversify the industry and "these powerful images are going to have a good effect." --Siân Gaetano, children's and YA editor, Shelf Awareness