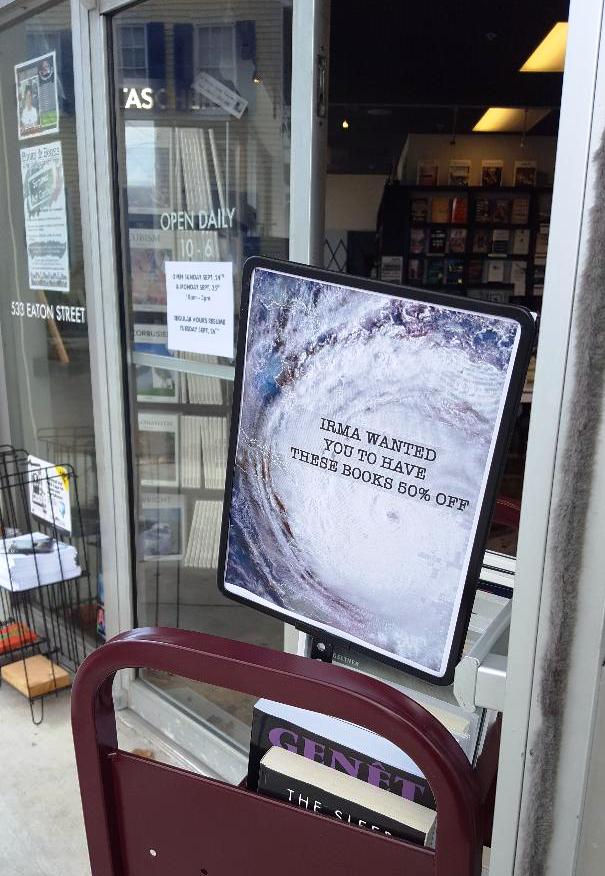 Books & Books at the Studios of Key West reopened yesterday after being closed more than two weeks because of Hurricane Irma. The store suffered only minor damage (one window and few dozen books), however, it needed to remain closed until power was restored and roads were reopened so evacuated staff could return to the island. The store is open from 10 a.m. to 3 p.m. until tomorrow, when regular hours--10 a.m. to 6 p.m.--will resume.
---
Also on Key West, Key West Island Books is up and running, but facing some problems, as owner Suzanne Orchard outlined on Facebook. Although the store had no structural damage, unexpected expenses have included $1,100 to board up the bookstore before the hurricane and an unknown amount in repairs for the air conditioning, which hasn't worked since the storm. At the same time, the store was closed for two weeks, and business hasn't bounced back yet because no tourists are in town and the locals have no income, or much less income, as businesses slowly reopen. And unfortunately the store has been denied any aid from FEMA.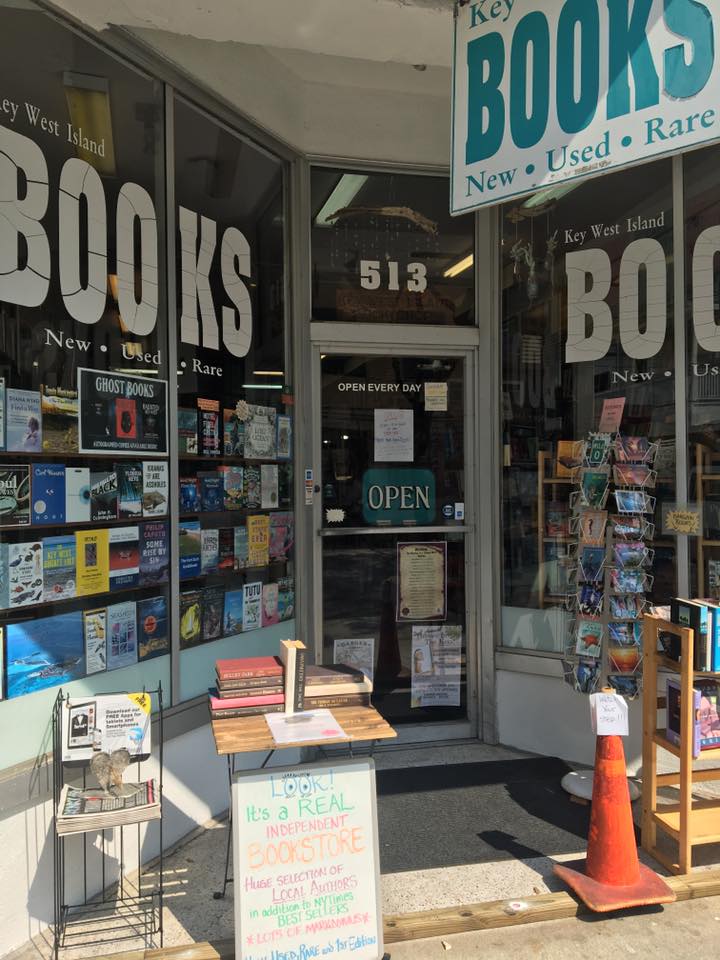 So as Orchard noted, "we need some help." But she said firmly, "I cannot, in good conscience, accept a handout." So she's suggesting friends and supporters buy gift certificates. "The purchase of a gift certificate NOW will help me with some unexpected expenses and you'll have new books to look forward to! Gift certificates are available in any amount, they NEVER expire, they can be used for new books, used books or special orders. They ARE transferable. I will ship books, too!... I'll send you your certificate right away, you redeem it on your next visit, even if it's a year or more from now."

To purchase a gift certificate, call 305-294-2904 or send an e-mail.
She added: "Key West is improving exponentially every day. In a few more weeks, we'll be back to the zany island town you know and love, albeit less green and lush. Thank you, thank you, thank you for all your messages and warm wishes. Hearing from my customers kept my heart light as the winds increased and things got scary. I'm telling you, I felt the love! It helped more than you know. I cherish my customers! You've become my friends and I'm so grateful for all of you."
---
The American Booksellers Association made an emergency contribution of $5,000 to the Book Industry Charitable Foundation (Binc) for hurricane relief and promised to match all bookseller contributions to Binc, up to $5,000, between August 31 and September 15. Last week, ABA said that the matching goal had been reached so that it was donating another $5,000 to the organization.
"The book industry does have the best people, that's for certain," Binc executive director Pam French told Bookselling This Week. "Folks just started to step up and say, 'Hey, how can we help?' We were pretty sure that we could achieve the ABA match without counting the contributions from publishers, and we were right. All the funds that contributed toward the $5,000 ABA match came either directly from bookstores themselves or from bookstore employees."
French added that Binc has processed aid relief for nine families already and is getting at least one request a day. "On Friday [the 15th], I got three requests from Florida just for immediate needs--food and water--so we sent out American Express gift cards overnight so they could get those immediate needs met. Luckily, in those cases, everybody was safe and they had their own home to go to, but they had no power, so they were buying ice and small amounts of food because everything in their refrigerators was rotting."
---
Last week, Barnes & Noble said it is donating $1 million worth of books to First Book for areas affected by hurricanes Harvey and Irma. The donation features thousands of children's books, including chapter books, board books, picture books and coloring books. First Books will deliver the books to schools and local charities in Texas and Florida.
"Barnes & Noble is committed to the communities it serves across the country, and when natural disasters of this magnitude affect our customers and booksellers we feel a duty to help," said B&N CEO Demos Parneros. "We hope that by partnering with First Book to put books in the hands of children in affected areas, we can help brighten the outlook of some of the families who lost the most in these unprecedented storms."
First Book president and CEO Kyle Zimmer thanked B&N "for stepping up and making a significant difference at a time of need for so many children and families in our country. These books will be distributed to schools and charities that require the most help in both Texas and Florida. Since Hurricane Katrina, First Book has already distributed more than five million new books to areas affected by natural disasters, and we've seen firsthand how books can improve the lives of young people, even in the most difficult circumstances."