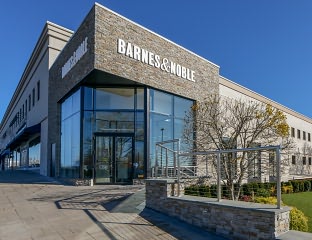 Although some financial observers say they expect Barnes & Noble to cut its relatively high dividend, the company's board voted last week to pay another quarterly dividend of 15 cents next month, maintaining its annual rate of 60 cents. At B&N's current share price of $7.75, the dividend yield is 8.3%.
Bloomberg said earlier this month that the company will likely cut the dividend by half "soon." And over the weekend, Seeking Alpha wrote that "on the surface, [B&N] is a very attractive dividend stock, because of its extremely high yield... however, the company's deteriorating fundamentals have called into question whether the dividend is sustainable."
The article is rather harsh about B&N's business prospects, with some dated observations like "physical bookstores are on the way out." But it points out that B&N's sales have declined steadily over the past five years. Moreover, in fiscal 2017, Seeking Alpha observed, "the company did not fully cover its dividend with earnings--earnings-per-share of $0.30 were half the $0.60 per share annualized dividend." But free cash flow just did cover the dividend, which amounted to $43.8 million.
Earlier this month, in a conference call with analysts, B&N's new CEO Demos Parneros emphasized that trade book sales had their best quarterly performance in two years; B&N sees a strong lineup of titles for the fall; the company is working on a new smaller store prototype; the pilot of a "ship-from-store program" for online sales is expanding; the company continues to review its store leases with an eye to "identifying opportunities to open new stores in new markets as well as opportunities to relocate stores as their leases expire instead of simply vacating markets"; and it continues to refreshen stores, improve merchandising and strengthen customer service. These efforts, Parneros says, will revitalize B&N. And with that, increased sales should help make the dividend sustainable and lift the company's share price.