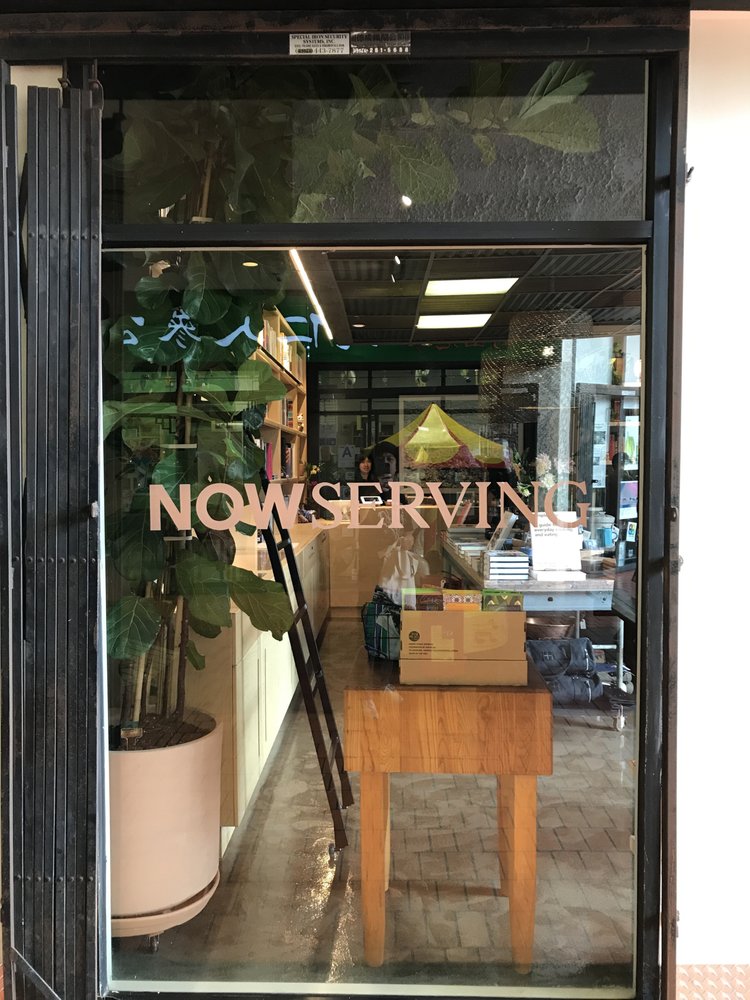 "There's been all this talk in the last five or six years about L.A. being one of the best food cities in America, but we don't have anything here as far as a dedicated space for cookbooks," said Ken Concepcion, culinary consultant and former chef de cuisine at Wolfgang Puck's steakhouse CUT in Beverly Hills. On September 17, Concepcion and his wife, Michelle Mungcal, opened Now Serving, a cookbook store and luncheonette in Chinatown in Los Angeles.
"I really saw this vacuum, this empty place in the community," Concepcion continued. Before he began his 20-year career as a cook, his first job after college was at the now-closed independent bookstore Library Ltd. in St. Louis, Mo, and he's had a self-described "obsession" with cookbooks for most of his adult life. "I think L.A. really needs it."
Now Serving will combine an approximately 400-square-foot new and used cookbook store with an 800-square-foot restaurant and lunch counter. The bookstore half of Now Serving opened first, and Concepcion plans to carry around 600 new and backlist cookbooks along with 200 to 300 previously owned or out-of-print cookbooks. Organizing the inventory is still a work in progress, Concepcion said, but he plans to have sections dedicated to the Americas, Asia, the Middle East and Mediterranean, central and northern Europe, pastries and baking, beverages, and general food writing and references. In the bookstore space, Concepcion will also sell a variety of nonbook items including Japanese knives; vintage cast iron pans that are 40-50 years old as well as some new, hand-forged cast iron pans made by Blanc Creatives in Charlottesville, Va.; apparel such as chef coats, chef shirts and aprons; and knife bags and knife rolls.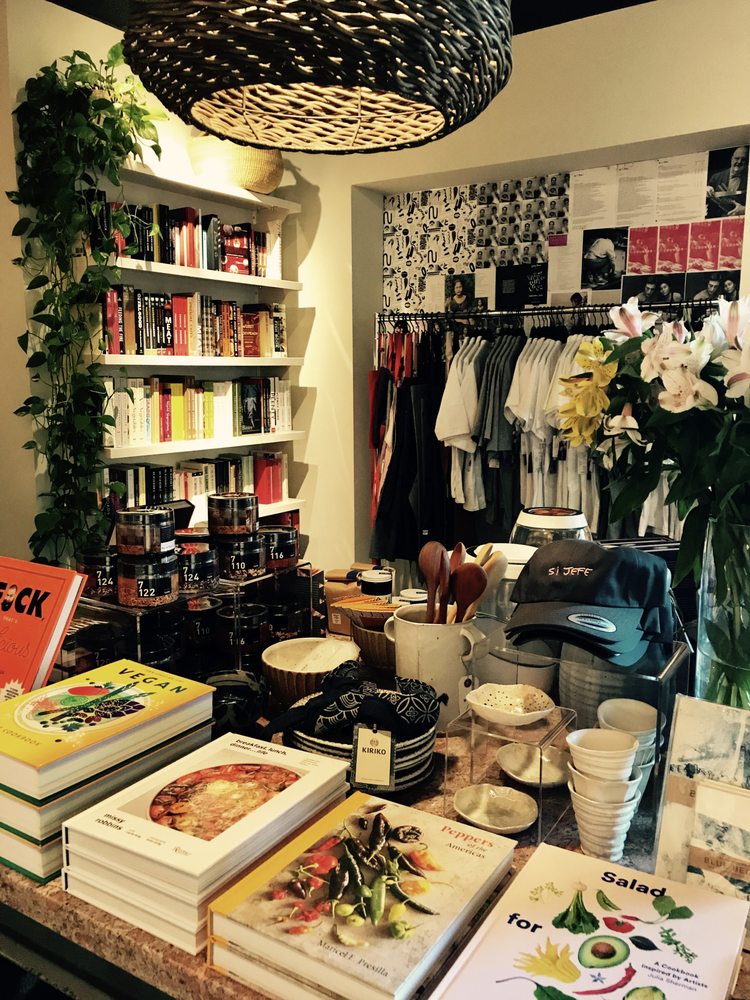 "I want to use my relationships with the restaurant industry to really bring a different focus to what a cookbook store can be," said Concepcion. "I really want to appeal to cooks and chefs and home cooks who are maybe overwhelmed when they walk into a Williams-Sonoma or Sur La Table. Those are really more restaurant or home supply stores. This is more curated."
When Concepcion first thought of opening a cookbook store of his own about two years ago, he knew from the beginning that he wanted to carry used and out-of-print books. He explained that in many of the "lifestyle stores" around L.A. that also sell cookbooks, you'd be hard pressed to find a cookbook older than two years, but there are so many wonderful, older cookbooks that have all but vanished. Concepcion added that not too long after he moved to L.A. in 2006, the city lost Cook's Library, the only store in the area that he felt was comparable to places like Kitchen Arts and Letters in New York and Omnivore Books on Food in San Francisco, which are great resources for both amateur and professional cooks. "The way they serve their communities and the restaurant industry is so inspiring," Concepcion said. "There are so many great cookbooks from 10 or 15 years ago. A lot of young chefs and passionate home cooks could really take advantage of them."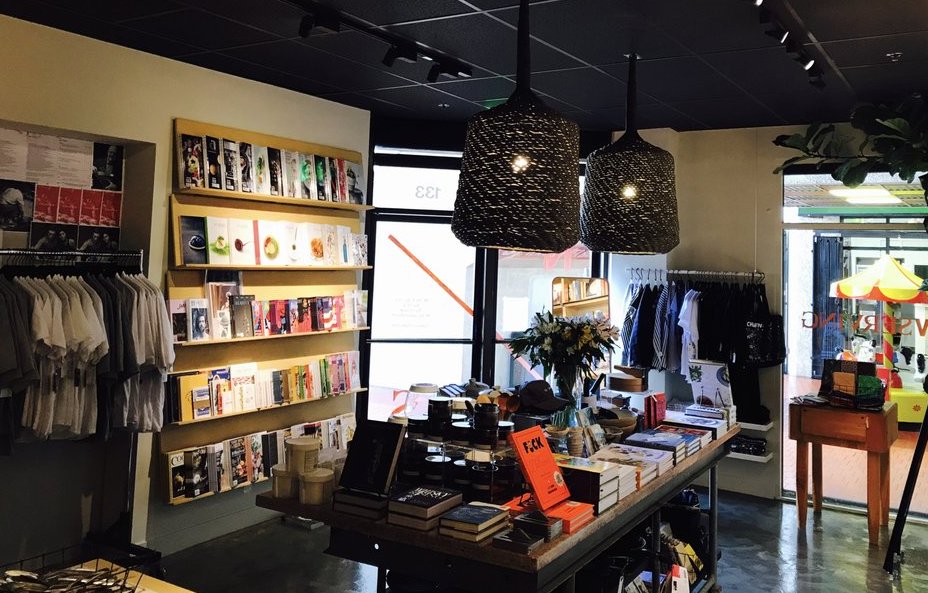 The restaurant side of Now Serving is still being built and approved, but Concepcion expects it to be open by late winter or early spring 2018. The restaurant's centerpiece will be a 16-seat bar/lunch counter, and he described the general concept as a modern American luncheonette serving American classics "filtered through the prism of being vegetable-focused and plant-based." Concepcion added that while there is great food in Chinatown, he felt the neighborhood could use more vegetables and some lighter cuisine. "I'm really a fanatic about farmer's market produce," he said. "I want to offer that in this kind of setting."
The luncheonette will be open from 11 a.m. to 6 p.m. every day, with the space available for industry classes and events with cookbook authors and visiting chefs in the evening. While the bar/luncheonette has been designed to have "someone back there talking and explaining," Concepcion has made sure that it "doesn't look like a culinary school demo kitchen." He noted that it's hard for cookbook authors to find the ideal spot for events. "I thought that was a missed opportunity," said Concepcion. "What we hope to provide here at Now Serving is a place for events, and once the restaurant side is up, both spaces will really talk to each other."
Concepcion and his wife hosted a grand opening party on September 17 that featured Oaxacan street food, beer from L.A.'s Highland Park brewery and music DJ'd by the music editor of the Los Angeles Times. Concepcion reported that "the turnout was pretty impressive--had no idea that many people would come out!" --Alex Mutter