Baker & Taylor has created Baker & Taylor Publisher Services, which will offer a full range of services to publishers--from warehousing and order fulfillment, sales and marketing support, inventory management and virtual inventory programs to editorial, POD and book manufacturing support. The division incorporates the existing distribution business of Bookmasters, which will no longer use that name for distribution and client services but will continue its printing and manufacturing businesses. (Follett bought Baker & Taylor and Bookmasters last year.)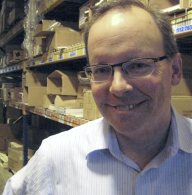 Mark Suchomel
In connection with the creation of B&T Publisher Services, Mark Suchomel has joined the company as senior v-p of sales and client services and will lead the unit jointly with Ken Fultz, who has been promoted to senior v-p of operations. Suchomel was earlier president of client services for the Perseus Book Group and president of Independent Publishers Group. He will work closely with the Global Publishers Services team, led by Chitra Bopardikar, to reach both domestic and international markets.

B&T president David Cully commented: "Launching Baker & Taylor Publisher Services was a natural choice when you consider our strength in diverse markets and trusted role as a partner to many publishers. With the market position and experience of Follett and Baker & Taylor, we'll be an obvious choice for publishers of academic, educational, and children's titles, and we'll provide an advantage to trade publishers through the utilization of our regional distribution centers. We are focused on collaborating with our publishers to give them the right mix of services so we can grow as they grow."

Suchomel added: "Our goal is to foster long-lasting partnerships with publishers and grow our business by helping to grow theirs. Our unique market position, sales network in the trade and special markets, economies of scale and ability to reach most U.S. accounts in a day or two will position our clients for growth. BTPS is not about upselling services to clients. We're about partnering to grow business together."