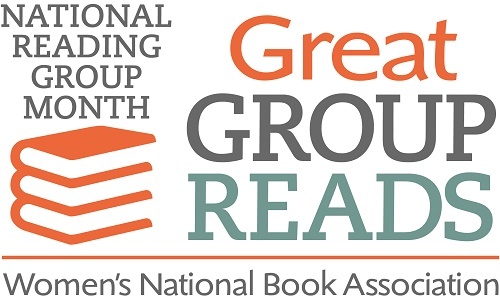 The National Reading Group Month/Great Group Reads Committee of the Women's National Book Association has chosen 20 books as this year's list:

The Best of Us: A Memoir by Joyce Maynard (Bloomsbury USA)
The Clay Girl by Heather Tucker (ECW Press)
The Heart's Invisible Furies by John Boyne (Hogarth)
The Hearts of Men by Nickolas Butler (Ecco)
Kinship of Clover by Ellen Meeropol (Red Hen Press)
Last Things: A Graphic Memoir of Loss and Love by Marissa Moss (Conari Press)
The Life She Was Given by Ellen Marie Wiseman (Kensington)
Lucky Boy by Shanthi Sekaran (Putnam)
Mothers and Other Strangers by Gina Sorell (Prospect Park Books)
News of the World by Paulette Jiles (Morrow Paperbacks)
One Good Mama Bone by Bren McClain (University of South Carolina Press)
Pachinko by Min Jin Lee (Grand Central Publishing)
The Redemption of Galen Pike: Short Stories by Carys Davies (Biblioasis)
Salt Houses by Hala Alyan (Houghton Mifflin Harcourt)
Smoke by Dan Vyleta (Anchor)
So Much Blue by Percival Everett (Graywolf Press)
The Tea Girl of Hummingbird Lane by Lisa See (Scribner)
The Velveteen Daughter by Laurel Davis Huber (She Writes Press)
We Were the Lucky Ones by Georgia Hunter (Viking)
The Woman Next Door by Yewande Omotoso (Picador)

The 21-member committee of writers, reviewers, booksellers, librarians, publicists and dedicated readers selected titles "on the basis of their appeal to reading groups, which seek books that open up lively conversations about a myriad of timely and provocative and diverse topics, from the intimate dynamics of family and personal relationships to major cultural and world issues."
Great Group Reads Selection Committee chair Kristen Knox said: "The breadth and diversity of books the Selection Committee has chosen this year delights me, resulting as it has in a final list encompassing both debut authors and established authors and novels and memoirs exemplifying global perspectives which inform and challenge readers. Any and every book club will be able to find thoughtful and engaging options that work for them no matter what type of book they want to read."
National Reading Group Month chair Jill A. Tardiff added: "Our goal is to have these outstanding and often inspiring titles become reading-group staples with facilitators and that booksellers and librarians across the country feature them during the month of October, which is, of course, National Reading Group Month--and, throughout the year."
The organization is providing downloadable shelf talkers, table-top posters and other display material. Find the National Reading Group Month Marketing Toolkit at Get Involved. For more general information, go to NationalReadingGroupMonth.org and wnba-books.org.