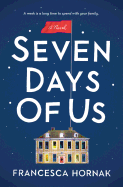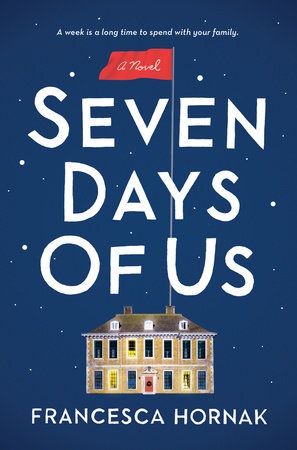 British journalist Francesca Hornak makes her fiction debut with Seven Days of Us, a self-assured dramedy about a family whose holiday retreat threatens to implode if their secrets get out.

The wealthy Birches of London--Andrew, Emma and their two grown daughters, Olivia and Phoebe--haven't shared the holidays under the same roof in years, but as Christmas 2016 approaches, they prepare to spend an entire week locked up together in the family home. Olivia, freshly back from a stint treating the deadly Haag virus epidemic in Liberia, must remain quarantined for a week after returning to the U.K., and so must anyone who comes in contact with her.

None of the Birches feels thrilled by the prospect of the coming week. Emma is overjoyed to have her children home, but she recently received a frightening diagnosis of the lump under her arm and is afraid to tell anyone, even Andrew. However, Andrew has his own secrets. Now a successful restaurant reviewer, he got his start in journalism covering the Lebanese civil war, where he had a brief fling with a Lebanese woman in Beirut, the one and only time he ever cheated on Emma. Now, this 36-year-old mistake has come back to haunt him in the form of Jesse, the son he's recently learned he has, who makes contact just before the holiday. Like Emma, Andrew decides to save the secret for the new year, but unbeknownst to him, a hopeful Jesse has already boarded a plane for England to meet him.

Olivia, usually the serious, overachieving do-gooder in the family, decides not to tell her family yet that she's in love with an Irish doctor she met in Liberia, leaving her with no one to talk to when he comes down with Haag and she starts to exhibit symptoms. Phoebe says yes to her boyfriend's proposal and starts planning her dream wedding, doggedly ignoring her own lack of enthusiasm for the groom. As the family limps through the holidays, they must decide whether to let their secrets tear them apart or bring them, finally, back together.

Hornak spends time looking through each character's eyes, and readers' sympathies will shift with each change in point of view. The richly defined inner lives of the Birches propel the story as they try to feel their way through their individual crises. Although at heart an earnest look at how family bonds change after children become adults and parents grow apart, this English trifle is layered with enough farcical moments, dishy secrets and snarky one-liners to please readers looking for fun as well as those wanting a reaffirming message about the ties that bind. --Jaclyn Fulwood, blogger at Infinite Reads

Shelf Talker: When a well-to-do British family of four is quarantined over Christmas, their secrets and lies begin to unravel.