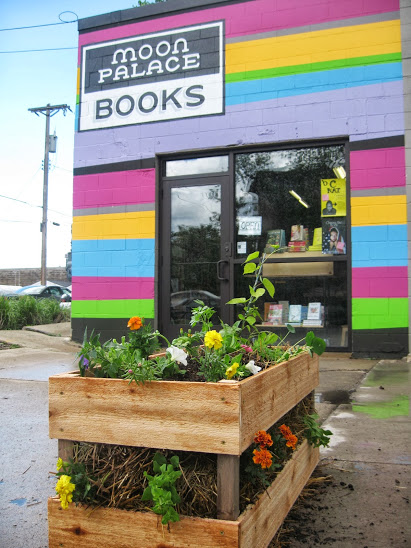 Moon Palace is on the move.
Moon Palace Books, Minneapolis, Minn., is relocating to 3032 Minnehaha, just two blocks from the current location it moved to last year. Co-owner Jamie Schwesnedl told City Pages that he's been getting a "You're moving again?" reaction "from just about all sides since last month's announcement that his colorful little bookstore was leaving 3260 Minnehaha Ave. behind."
But that space was always meant to be a temporary home, what Schwesnedl called a "practice move" into a "slightly larger, intermediate shop that would lessen the learning curve as they looked for a much bigger, multi-function space," City Pages noted, adding that what he and co-owner/wife Angela "needed was a space with a dedicated events area, which they'll have when they move into their new new home."
"We just tried to really think about, 'How can we have a bookstore that has stuff going on in it beyond being a bookstore from dawn to dusk?'" Jamie Schwesnedl said. "And then we were like, 'You know what would be great? If we had some kind of restaurant-bar.' " They will be partnering with "an old friend who runs a restaurant in south Minneapolis and whose food we really love.
Current plans call for the bookstore to open by the end of October or early November, and the restaurant sometime in late fall or early winter.