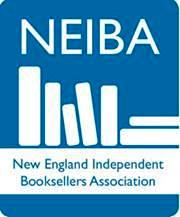 I didn't tell anyone at the time, but my invisible friend during this year's New England Independent Booksellers Association Fall Conference in Providence, R.I., was the ghost of Elizabeth Peabody, who opened a little bookshop in Boston, at 13 West Street, in 1842. It was her first NEIBA show. She had a great time.
Elizabeth (She doesn't like being called Liz.) has been haunting me a little bit since I read the new Henry David Thoreau biography by Laura Dassow Walls this summer.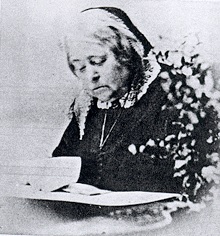 Elizabeth Palmer Peabody
Her bookshop only gets a couple of mentions: It sold high-end pencils (an early venture into sidelines) made by Thoreau's family business for 75 cents ("For a time, one could have purchased there both writings by Henry Thoreau and a 'John Thoreau and Son' pencil with which to mark them."); and Bronson Alcott rented rooms next to her bookshop "to hold his Conversations, which Thoreau attended whenever he could."
I want to know more, so I'm working on it. In The Peabody Sisters: Three Women Who Ignited American Romanticism, Megan Marshall writes that opening the bookshop put Elizabeth at the center of the Transcendentalist movement, "and she welcomed it." The shop "served as a meeting place and mail drop, a clubhouse open to a widening circle of reformers.... By opening her bookstore, Elizabeth would one day recall, 'I came into contact with the world as never before.' "
Linda Ramsdell with Bill McKibben
So Elizabeth was hovering nearby during the opening keynote, which featured Linda Ramsdell, former owner of the Galaxy Bookshop in Hardwick, Vt., interviewing Bill McKibben about his upcoming novel, Radio Free Vermont (Blue Rider Press, November 7).
Elizabeth seemed to like what she heard, as far as I could tell. She can be hard to read.
Ramsdell said she'd read McKibben's novel "as really a love story to Vermont.... but at a deeper level, I think it's also a love story to neighborliness and civility and participatory democracy. One of my favorite lines in the book is, 'Listen to your neighbors at Town Meeting and follow your heart.' "
McKibben agreed, calling the annual tradition of Town Meeting Day "the best holiday on the Vermont calendar. To do the business of your local place with your neighbors in the way that Vermonters have done it from the beginning is as close to a kind of feeling of democracy as we get in this world. It's amazing how well it works. And one of the things it enforces is a certain level of neighborliness and civility."
Beyond that one day a year, however, McKibben said it is more important than ever to have everyday community centers where a sense of neighborliness can thrive: "Indie bookstores, as you know... in many places are one of the two or three hubs in the community where people are in and out. In New England, the food co-op is another one and maybe the library if you're lucky enough to have a good library."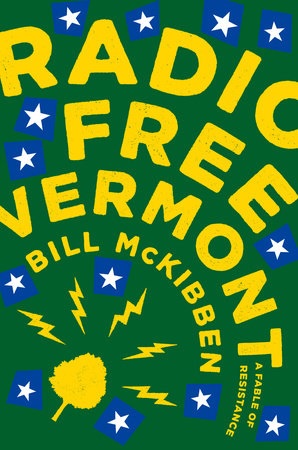 Indie booksellers also fulfill an "unlikely role that we wouldn't have thought of even a few years ago; of having to stand up for the idea that facts and reality matter, are to be taken seriously. And so, we are continuing to figure out the role that bookstores have taken on in our lifetime, of having to be the Chautauquas of our moment where people come for information and for programs and for all of that. In the best case, they accomplish all of those things and more.
"It's not really fair to load it all on the backs of independent booksellers that they have to fulfill that kind of role, but it is maybe the most important role that you have at the moment because no one else is doing that. I mean, who else is bringing people through town to talk? So, thank you for it."
The good news, McKibben noted, is "there's an incredible appetite for it, a growing appetite for it. And one of the things that's going to happen, I'm convinced, out of the Trump administration and the moment we're in, is that more and more people are going to understand what a bad idea it was to let these institutions and these ideas wither, and the necessity of having connections to the factual real world.... We're all pressed into service in ways that maybe we shouldn't have to be."
For those of us who live in the book world, "I don't know what to tell you," McKibben said, adding: "Always try to do what you do in a way that's open to the possibility of neighborliness.... Scale has always been one of the things I've written about the most. Deep Economy was the closest examination of this thing, but I've always been convinced that the degree to which we can move a lot of our political and economic life closer to home, then our government makes a lot more sense than it makes at the moment.... The one underlying lesson of this book is that's where we need to go. If we do that, and when we do that, we have no choice but to engage people. That works a lot better close to home... partly because everybody knows everybody.... We have to engage people."
My new friend Elizabeth Peabody "believed that a book shop ought to not merely sell books but should function more widely as a meeting place for authors and readers to congregate, discuss and purchase books." Some good ideas never go out of fashion.