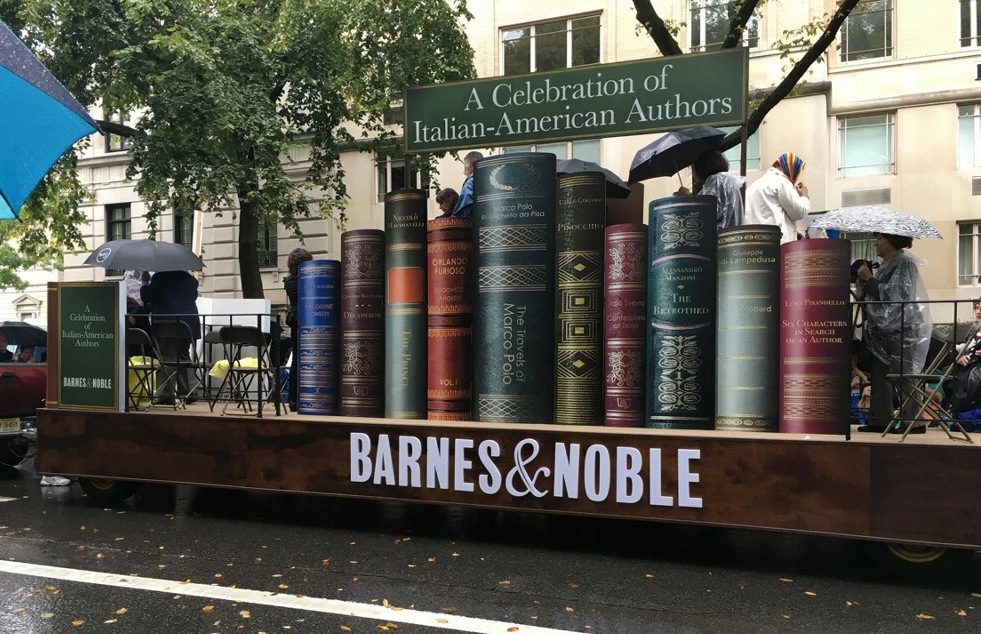 B&N's Columbus Day parade float celebrated Italian-American authors.
New York City's Columbus Day Parade took a literary turn yesterday when Barnes & Noble chairman and founder Leonard Riggio, serving as Grand Marshall, invited more than 100 published authors of Italian descent (including this writer) to march together up Fifth Avenue, where the company distributed 50,000 copies of a free, specially bound publication of The Constitution of the United States and the Declaration of Independence.
"I have long held the belief that Italian-American writers have received little recognition for their contribution to America's literary heritage," Riggio said in a statement released before the parade. He continued along this theme at a private luncheon held for the participating authors afterward at the Columbus Citizens Foundation, with off-the-cuff remarks that revealed the deeply personal intention he brought to the occasion. "This is my way of saying that our writers--our Italian-American authors--belong in the pantheon of cultural America," said Riggio. "You made me proud--and I hope I brought you some honor as well."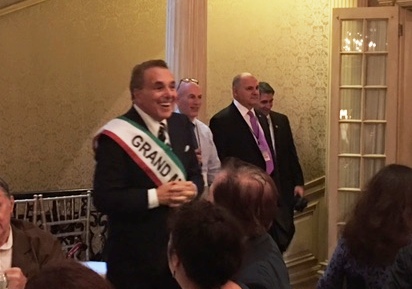 Grand Marshall Len Riggio
Despite the rain and bit of disorganization--Riggio quipped that that just made it "Italian style"--from start to finish the event felt like an extended-family affair--that is if your family includes Gay Talese, David Baldacci, Nelson DeMille, Adriana Trigiani, Wally Lamb, and other bestselling authors. Lisa Scottoline marched with her daughter Francesca Serritella, with whom she's collaborated. Authors who enjoy celebrity beyond the printed page Susan Lucci, Tony Danza and Danny Aiello shared a float, along with those who preferred to ride. But many of the authors preferred to walk, and the day unfolded without hierarchy, in a united salute to Italian writers.
Steven Sorrentino, Lisa Scottoline, Wally Lamb and Francesca Serritella getting ready to march
"[Chef] Rocco DiSpirito just handed me a plastic cape," said first-time author Rosella Rago (Cooking with Nona) in the staging area before the trek to 72nd Street. Steven Sorrentino, whom many in the business know from his days at both HarperCollins and B&N, hinted that he's close to being done with his new novel. Anthony DeCurtis, whose Lou Reed: A Life is out this week, discovered he'd be attending the same Bruce Springsteen show on Broadway this Friday as psychologist Lorraine Mangione, who is thinking about tackling a book related to the Boss that will be a departure from her Daughters, Dads, and the Path Through Grief. DeCurtis even offered to write a foreword if Mangone's book works out.
Such was the mood of the day.
"Reading is my life," said Riggio, after sharing a familiar story of how, as an engineering student, he had never read a book before working at the NYU bookstore, which led to his life's work in bringing books to "aspirants" all over America. "I've always believed that there is the touch of the poet in every human being," he said.
Finally, Riggio told the authors that B&N wanted to support their future work. "Please keep us posted," said the Grand Marshall, who wanted to make sure celebrating Italian-American writers was not just a one-day affair. --Bridget Kinsella