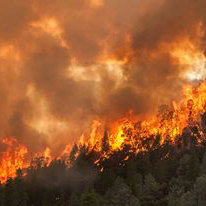 In what seems like the continuation of a season of natural disasters, fires swept across northern California yesterday, and local independent bookstores checked in on Facebook with status updates:
Copperfield's Books: "Due to the current situation with the fires in Sonoma and Napa County our Calistoga, Napa and Montgomery Village stores will be closed. Please call your local Copperfield's store for more information and hours."
Napa Bookmine: "Hi friends! The fires here in Napa and the rest of the North Bay are pretty bad. Our employees and their families all seem to be safe, but we will be closing both stores today in light of air quality and other safety concerns. We're hoping to open tomorrow, so stay tuned and stay safe! #napafire."
The Book Industry Charitable Foundation has already received its first call for disaster assistance from the wildfires--one employee from Copperfield's has completely lost their home and many others have been evacuated.
Executive director Pam French said any bookseller impacted by the situation should contact Binc, which "is able to help with immediate needs by issuing gift cards to be used for food, water, shelter, etc. The best way to determine how Binc can help is to give us a call (866-733-9064) or send an e-mail (help@bincfoundation.org) or text."