Penguin Random House CEO Markus Dohle opened this year's Frankfurt Book Fair with an optimistic look at the state of the trade book publishing industry, saying at the opening press conference Tuesday that he thought the global book business was currently living through perhaps the "best times" it has ever seen, and certainly the best within the last 50 years. Juergen Boos, head of the Frankfurt Book Fair, and Heinrich Riethmueller, president of the German Booksellers and Publishers Association, also spoke.
Acknowledging that his positive outlook might "surprise some of [his] industry peers," Dohle explained that his argument was based on several factors, including the slow "but often continuous growth" of digital books in most countries over the last 15 years, the establishment of stable, widespread business models for both print and e-books, and a "renaissance of the printed book" that has had a "massively stabilizing effect" for bricks-and-mortar retail as well as the industry at large.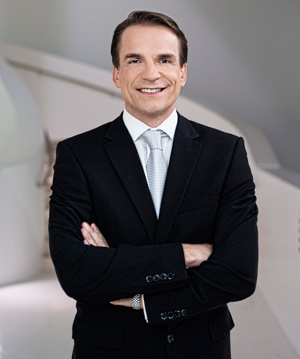 Markus Dohle
Dohle remarked that books are one of a very few categories of media that have actually seen growth since the proliferation of digital formats over a decade ago, and he noted drily that after the business model for e-books was "in flux" for many years, especially in the U.S., where there was a "big lawsuit," a stable business model has been in place for the last two years. He also described a "healthy coexistence" between print and e-books, with an "80-20 split among those formats" globally, adding that if anyone had predicted an 80-20 split years ago, they would have predicted it being 80% digital, 20% print.
On the subject of the resurgence of print books, Dohle said that it is a critical factor for the diversity of the book business and the health of the entire "book ecosystem." It is also massively important for bricks-and-mortar retailers, who need to be preserved if publishers want to preserve the diversity of stories and narratives "in book form." Later, in a response to an audience question, he added that the bookshop is still the "most important place" for readers to discover new books and that it is important for publishers to "inform the public that the print book is not dead."
With books for children and young adults remaining the "fastest-growing category in most book markets" over the last decade, Dohle was optimistic that publishers will be able to turn younger generations into "lifelong readers." In a similar vein, he pointed to the book industry being pushed by the "tail wind" of various demographic changes around the world, including population growth and easier access to education in some developing markets such as India and Brazil.
In terms of challenges facing the publishing industry, Dohle said that the "true challenge at the core of the digital transition" is not about format but about publishers needing to "reinvent" how they advertise and publicize new books: they have to establish "direct connections" to readers and to find ways to generate demand for books "directly and at scale." Noting that millions of titles, including new, used and self-published books across all formats, are available online, Dohle described both consumers and publishers as "drowning in titles." And while it is more difficult now to get noticed, publishers can use their commitment to "quality in each product" as a way to be seen through the "deluge of new and often self-published titles."
Dohle related that Penguin Random House invests around $750 million annually "in new stories." When asked about the sustainability of authorship as a profession with seemingly more and more money going to a smaller pool of major authors, he answered that while he "would like to agree" that the percentage of authors who cannot make a living from their work is still too big, there hasn't been any worsening of the situation. He said that high advances for top authors are "not a new phenomenon," and the share of revenue that authors receive from books sold has not seen a major change.
Given the "tense political situation" around the world today, words, language and culture have never been more important, he continued, and "diverse ideas and opinions" are more important now than ever before. Dohle called on publishers and the book industry at large to fulfill their "social responsibility," concluding: "If we succeed in this mission, we will succeed financially as well." --Alex Mutter