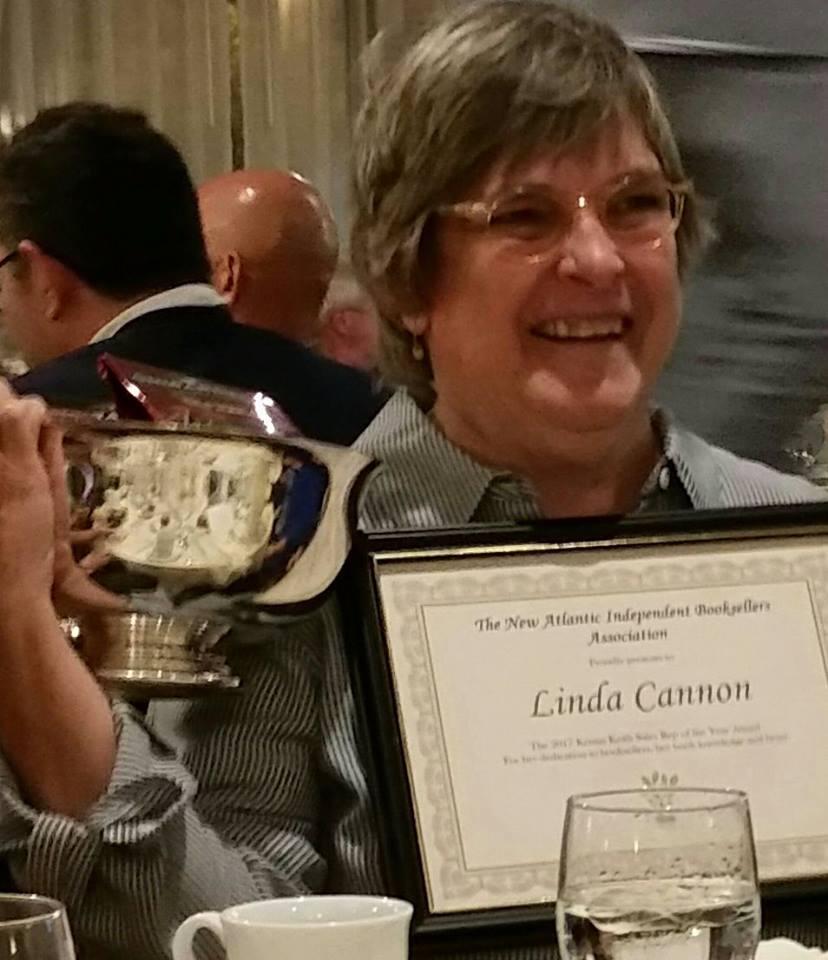 Linda Cannon
A particularly celebratory and poignant moment at the New Atlantic Independent Booksellers Association Fall Conference over the weekend in Cherry Hill, N.J., was the presentation of the inaugural Kristin Keith Sales Rep of the Year award to Linda Cannon, co-owner of rep group Parson Weems. For 30 years, the award was known as the William Helmuth Sales Rep of the Year award, but was renamed earlier this year to honor the beloved Norton rep who died on January 4 and who won the Helmuth award in 2013.
It was quite the family event. Keith's sister, Kathryn Runyan, introduced the award, and in a surprise orchestrated by NAIBA and Parson Weems, Cannon's sisters Judy and Kim came from Pittsburgh for the festivities. "I was thunderstruck when I saw them in the aisle, and so very happy!" Cannon said. "I'm so grateful to all."
Outgoing NAIBA president Mark LaFramboise of Politics and Prose presented the award, saying that it was fitting that it went to Cannon: "Linda's dedication and generosity to her accounts is immense. Her optimism and sense of humor can brighten an ordinary day. I'm proud to give this award to Linda Cannon, not just because she's my friend but because she exemplifies everything great that sales reps contribute to our stores."
For her part, Cannon said she was "thrilled, honored and humbled" to receive the award. She also praised Kristin Keith as "a fabulous rep who lit up any room, was beloved by everyone, and a friend of mine. I miss her, and wish she were still with us. Kristen was taken far too soon."