The 24 recipients of this year's MacArthur Foundation "genius" grants--$625,000 paid out over five years to people who "show exceptional creativity in their work and the prospect for still more in the future"--include these authors: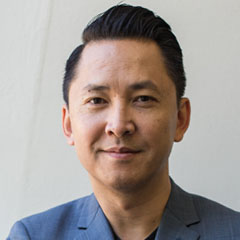 Viet Thanh Nguyen (photo: John D. & Catherine T. MacArthur Foundation)
Viet Thanh Nguyen, fiction writer and cultural critic, for "challenging popular depictions of the Vietnam War and exploring the myriad ways that war lives on for those it has displaced."
Jesmyn Ward, fiction writer, for "exploring the enduring bonds of community and familial love among poor African Americans of the rural South against a landscape of circumscribed possibilities and lost potential."
Annie Baker, playwright, for "mining the minutiae of how we speak, act, and relate to one another and the absurdity and tragedy that result from the limitations of language."
Sunil Amrith, historian, for "illustrating the role of centuries of transnational migration in the present-day social and cultural dynamics of South and Southeast Asia."
Derek Peterson, historian, for "reshaping our understanding of African colonialism and nationalism in studies that foreground East African intellectual production."