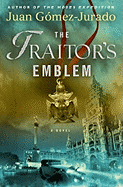 Like so many novels of intrigue and suspense, The Traitor's Emblem begins with the inexplicable: in 1940, Captain González rescues a group of German castaways and receives a jewel-encrusted golden cross as thanks. Decades later, when an interested buyer makes an offer on the cross, the captain's son finally learns the true story of the cross's origins.
Travel back then to 1920s Germany, where a young Paul Reiner finds his family in ruin, but not before discovering that his father was murdered, not lost at sea as he had always believed. He soon finds himself on the streets, struggling to find work while following a trail of weak but persistent clues in the story of his father's death. Reiner ultimately follows these clues back to his own family, where he must face once and for all his cold-hearted cousin, a rising star among the Nazi party.
With The Traitor's Emblem, Juan Gomez-Jurado (The Moses Expedition) has woven a tale of murder, family, romance, revenge and hate. He sets all of this against the turbulent era of Weimar Germany, a fitting setting for a story of vengeance and suffering.
In his author's note, Gomez-Jurado claims a true story as the seed for his novel and Alexandre Dumas as one of his inspirations; though The Traitor's Emblem is no Count of Monte Cristo, it is a telling novel that explores the power of family, revenge and politics in shaping lives and countries and histories. --Kerry McHugh, blogger at Entomology of a Bookworm