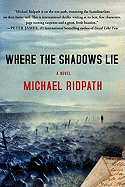 Detective Magnus Jonson, a tough Boston cop, turned in his crooked partner. Unfortunately for Magnus, his crooked partner then had Dominican drug contacts put a bounty on him. After two attempts on his life, Magnus's supervisors decide to send him away to assist police in Reykjavik, Iceland.
Back in the land of his birth, Magnus is immediately thrown into a murder investigation. Professor Agnar Haraldsson has been found dead at his summer cottage. It turns out that just before someone smashed his head with a rock, Agnar had been working on an English translation of a secret, 1,000-year-old Icelandic saga that may have been Tolkien's inspiration for The Lord of the Rings, and it hints at the presence of an actual ring of power.
Ingileif, the beautiful artist whose family has been hiding the saga for centuries, is convinced that the ring is real and has cursed her family. Magnus is not so sure, and the other detectives on the case are downright skeptics. While Magnus is busy trying to brush up on his Icelandic and convince the rest of the team that the saga may have played a role in death, the Dominicans are working hard to track Magnus down.
The vivid descriptions of the modern city of Reykjavik contrast sharply with the eerie landscape of the Icelandic countryside, where the clues to Haraldsson's death lead the investigation. Michael Ridpath has created a mystery whose eccentric characters seem like they might have come from Middle Earth. The only question is whether or not Magnus will be able to separate truth from myth and find the killer before the Dominicans find him. --Jessica Howard, bookseller, Bookmans Entertainment Exchange