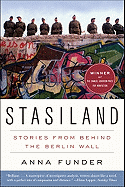 The Berlin Wall existed for 28 years as both a physical and symbolic barrier in a city and a country divided by ideology; it's been more than 20 years since it was physically and symbolically destroyed. While working for German overseas television in Berlin a few years after the Wall came down in 1989, Anna Funder became interested in the stories of ordinary citizens of the former East Berlin, as well as those who had enforced the rules of the German Democratic Republic. Those stories are collected in Stasiland, a work of investigative nonfiction being published in the U.S. for the first time and winner of the Samuel Johnson Prize in the U.K.
Funder spoke with ordinary citizens who had been the focus of attention from the Stasi, the East German secret police, as well as with Stasi agents. Granted, very few citizens were not the focus of Stasi attention at one time or another. Descriptions of Stasi facilities and actions sound as if they come straight out of a spy novel; however, Funder's evocation of the East German police state has more impact because it's true and reported by those who lived it.
Funder tells the stories of would-be escapees; separated families; one of East Germany's best-known rock musicians; a student targeted for surveillance because of her boyfriend, a propagandist; and one of the Wall's architects. Reported in a straightforward manner, these make for enlightening and accessible reading.
As 20th-century Communism fades into history, Stasiland serves to document and preserve the experiences of ordinary people who lived and struggled under it. --Florinda Pendley Vasquez, blogger at The 3 R's Blog: Reading, 'Riting, and Randomness