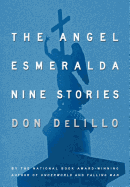 There's probably no writer whose work is more emblematic of these unsettled and unsettling times than Don DeLillo, and in this collection of nine edgy stories, his first, he turns a wary eye on aspects of our contemporary predicament.
DeLillo's stories are long on atmosphere and short on tidy plot resolutions, often featuring characters alienated from themselves or their environment. In "Baader-Meinhof," a woman and man meet at an exhibit of paintings of the notorious 1970s German terrorist gang. They linger together for an afternoon, their encounter culminating in a scene of real menace in the woman's apartment. The protagonist of "The Starveling" passes his days in New York City movie theaters, and when he spots an anorectic woman engaged in similar activity, he stalks her across the city.
Readers of DeLillo's masterpiece Underworld may recognize "The Angel Esmeralda," portions of which appeared in different form in the novel. In it, Sister Edgar, an elderly nun, helps minister to a desolate section of the Bronx. There she encounters graffiti writers who "spray-painted a memorial angel every time a child died in the neighborhood." When 12-year-old Esmeralda Lopez is raped and murdered, her image becomes visible beneath a billboard advertisement--a tragic palimpsest--attracting hundreds of reverent observers each day to the site.
But the story that best reveals DeLillo's ability to capture the zeitgeist is "Hammer and Sickle," set among a group of white-collar criminals ("men in Maoist self-correction, perfecting our social being through repetition") who inhabit a minimum security prison camp. Each day they gather before the common room's television to watch the adolescent daughters of the story's narrator host a financial news show, their delivery as unnerving as it is chipper ("Even the numbers are panicking."). It's a story that evokes the atmosphere of our economic malaise with more chilling immediacy than a week of the Wall Street Journal.
The aftershocks of an earthquake in Greece, a Central Park kidnapping, the rumor of a Caribbean plane crash, high-tech warfare--they're the random, life-altering events that disturb our waking hours and haunt our dreams. And they're the stuff of Don DeLillo's short fiction, offered in all its stark, enigmatic singularity in this collection. --Harvey Freedenberg