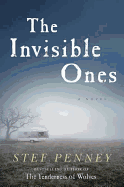 Ray Lovell is a fairly average private investigator; though he did have one prominent success early in his career, he's so haunted by its consequences that he's vowed to never take on another missing persons case again. Nevertheless, when a desperate father asks Ray to find his daughter, Rose, who disappeared seven years ago shortly after her marriage, he agrees--the missing woman is a Gypsy, and while most detectives might not be able to get any answers from the close-knit community, Ray has Gypsy heritage on his father's side.
Something, however, went wrong: as The Invisible Ones opens, Ray has woken up in a hospital, paralyzed after an apparent car accident. At first, the police think that he's overdosed on drugs, but eventually it turns out that he's ingested two powerful herbal poisons. While he recovers, he recounts the events that lead up to his accident--and introduces a second perspective to the story, that of JJ, Rose's teenage nephew, who lives with his extended family in trailers parked on a farmer's land.
Stef Penney's first literary thriller, The Tenderness of Wolves, won the Costa Book Award for debut novel in 2006. The Invisible Ones lives up to that pedigree, with a genuinely baffling mystery that takes Ray well along one path before veering into a direction that will catch most readers off guard.
By setting the novel in the 1980s, Penney takes away convenient technologies like cell phones and the Internet, forcing Ray to conduct his investigation with nothing but old-fashioned legwork. Meanwhile, JJ could easily be the protagonist of a sophisticated YA novel (think Robert Cormier) about a Gypsy family with a tragic past and a looming secret. Fused together, Penney's character studies make The Invisible Ones a truly distinctive suspense novel. --Ron Hogan, founder of Beatrice.com