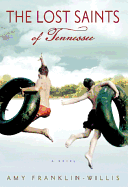 It's apparent from the opening of The Lost Saints of Tennessee that Ezekiel Cooper is, indeed, astray. Smoking in the parking lot outside his 25th high school reunion, he's contemplating the easiest and most polite ways one might end his life when his newly-ex-wife hops in his pickup long enough to scold him and refresh his painful memories. From this morose beginning, Amy Franklin-Willis creates a debut novel of hope, healing and family love.
The Coopers of Mabry, Tennessee, are a hardworking lot, and when Lillian's third pregnancy (in 1942) produces surprise twin boys, they're anointed as the ones destined to fulfill the family's dreams. At two, measles stunt Carter's mental growth, and Ezekiel grows up determined that being his brother's keeper is his life's calling.
Ezekiel's story unfolds from childhood to the novel's 1985 setting, in his voice and Lillian's. Poverty, hard luck and tragedy abort Zeke's college career and his mother's hopes. But, after the parking-lot contemplation of suicide, Zeke slowly finds redemption by way of the elderly Virginia relatives who welcome him to their comfortable horse-country farm. It is here that Zeke revives his self-worth, renews his young daughters' faith and finds love and peace.
Amy Franklin-Willis, an eighth-generation Southerner, draws on her appreciation for the culture of the southeast, and The Lost Saints of Tennessee is rich in spot-on references: readers will taste the cornbread, shiver at the snow on the mountaintops and be warmed by the Cooper family's love and loyalty through good times and bad. --Cheryl Krocker McKeon, bookseller