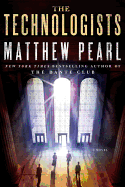 After The Dante Club, The Poe Shadow and The Last Dickens, Matthew Pearl gives us a historical thriller without a writer's name in the title: The Technologists is set in 19th-century Boston, and the author draws readers into another stylish mystery surrounded with some real people and grounded in fact.
Early April morning, 1868, in foggy Boston Harbor, compasses on ships go crazy with disastrous results. Directionless vessels strike others, crash into piers. Many boats sink and passengers are injured. A day later in downtown Boston, the "windows of the buildings suddenly come alive," and the melting glass leads to death. The police, baffled, turn to renowned scientist Louis Agassiz for help.
Professor Agassiz is not the star of Pearl's story, though. That distinction belongs to a group of students at Boston's newest university, the Massachusetts Institute of Technology. As local citizens wonder if the college's scientifically inclined students might be behind the disasters, four students, led by Marcus Mansfield, create a society dedicated to solving the mystery with science: the Technologists. They discover a chest in Boston Harbor that may have contributed to the first disaster, then come across a lab that may have been used by the person who caused the second catastrophe. And when the case heats up, and Marcus is kidnapped, could the faculty of Harvard Medical School be involved?
It all may sound rather melodramatic--it is, but in Pearl's hands, the story threads come together in a quite believable manner. He sets the post-Civil War scene effectively, with labor unions worried about being replaced by machines and religious activists who have their own concerns about scientific progress. The Technologists is a vintage period mystery-thriller, and good fun. --Tom Lavoie, former publisher