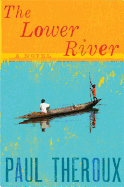 When Paul Theroux (The Mosquito Coast ) was a Peace Corps volunteer in Malawi in the 1960s, he met a couple who invited him to visit their remote village. He went, only to realize that they wouldn't let him leave. Finally, a stranger happened by and helped him escape. The Lower River is a fictional variation on this premise.
Haberdasher Ellis Hock's wife gives him a smartphone for his 62nd birthday. On it, she finds that he has several e-mails from women, revealing a side of his life unknown to her. Things start to unravel; after fighting and counseling, they divorce.
Ellis moves to a condo. He recalls his years as a Peace Corps volunteer in Malawi, his Eden. Had his father not fallen ill and asked him to come home and run the store, he might never have left. He did worthwhile things while he was there: built a school, taught in it, started a clinic--and made a difference in the lives of the villagers.
Of course, Ellis decides to recapture his halcyon days. He arrives at the village, illusions and memories intact, but all is changed. After a week or so, he decides it's time to go home. At first, heat and inertia keep him there; soon, he realizes he is a prisoner. His attempts to escape are thwarted, malaria sets in, everyone lies--and that's just the beginning. Theroux has created a sad and bitter tale of innocence lost, a culture lost and nothing gained. --Valerie Ryan, Cannon Beach Book Company, Ore.