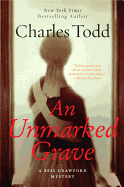 As the 1918 Spanish flu epidemic sweeps through the European trenches, the work of battlefield nurse Bess Crawford (introduced to readers in 2009's A Duty to the Dead) becomes doubly difficult: she must nurse the wounded and care for hundreds of soldiers stricken by the virus. When an orderly shows Bess the body of a murdered man concealed among the influenza victims waiting for burial, Bess plans to investigate, but falls ill before she can do so. By the time she recovers, the soldier is long buried and the orderly who reported the murder is dead, allegedly by his own hand.
Struggling to regain her strength, Bess returns to England, working in a convalescent clinic while using her father's military connections and her own contacts to glean information about the two victims and their killer. Before long, she realizes the killer is still on the loose--and that she is his next target.
Charles Todd uses Bess's father and his far-reaching network to explain improbable plot coincidences throughout An Unmarked Grave, but in the moment, each clue feels necessary, each piece of information vital. The mud-filled trenches, makeshift aid stations and crowded cities of France and coastal England provide a vivid backdrop to Bess's nursing work and her investigations. Fans will enjoy the reappearance of familiar characters such as Bess's parents and her friend Simon Brandon, even as they wonder when Bess will learn to appreciate Simon's talent for coming to her rescue.
Full of historical detail and dark family secrets, An Unmarked Grave is another fascinating installment in the story of a brave, independent heroine. --Katie Noah Gibson, blogger at Cakes, Tea and Dreams