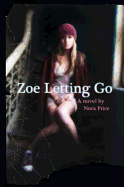 Nora Price's debut young adult novel presents a startling premise: What do you do when you find yourself in treatment for a condition you don't have?
Zoe is ready to enjoy the summer with her best friend, Elise, when she finds herself whisked away one morning to Twin Birch by her strangely silent mother. Zoe discovers that Twin Birch is a highly exclusive treatment facility for girls coping with eating disorders. As Zoe contemplates her situation, she struggles to fit in with the other girls at Twin Birch, particularly when they begin to question her presence there. Between therapy sessions and cooking and gardening classes, Zoe notices another strange phenomenon: no matter how many letters she writes, Elise never writes back.
Readers may at first assume that Zoe is simply in denial about her disorder, but when the other girls begin to question Zoe's past as well, it becomes clear that Zoe's problem may be much larger and even more dangerous. Price keeps the narration entirely in Zoe's head, which at times may leave readers wishing for more information. But she deals with a sensitive subject in a way that is gripping and realistic without falling into the pitfalls of melodrama. Zoe's first-person narration helps support her feelings of madness and abandonment, as readers share her confusion and cluelessness.
Ultimately, the power of the book comes from Zoe's discoveries about herself and her friendship with Elise, and the realization that friendship can both save and destroy. --Kyla Paterno, trade book buyer and blogger, Garfield Book Company at PLU