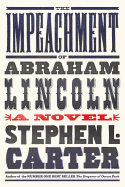 In The Impeachment of Abraham Lincoln by Stephen L. Carter, Yale law professor and bestselling novelist (The Emperor of Ocean Park), the Union has won the Civil War but at a great cost. Andrew Johnson is dead and Secretary of State William Seward gravely injured. President Lincoln has survived Booth's bullet only to be impeached for offenses he committed to protect the United States.
Carter's story begins in February 1867. A young black woman, Abigail Canner, recent graduate of Oberlin, arrives at Dennard & McShane (the law firm Lincoln has hired to defend him), where she has just been hired as a clerk and hopes to study the law. She's intelligent, ambitious and attractive, but frustrated daily by the menial tasks she is given.
The trial is to begin in a few months and the firm is putting its case together when news arrives that partner Arthur McShane has been found murdered outside a colored brothel, along with a young colored woman, Rebecca Deveaux. Why was he there? Who wanted him dead?
Carter's novel now begins to twist and turn, as new characters are introduced, side plots unearthed and threats of various conspiracies wind their way through the story. What started out as a historical novel suddenly takes on all the intricacies of a legal thriller, along with the dark and brooding atmosphere and multitudinous characters of a Dickensian mystery, with Abigail as unwilling sleuth. That Carter can juggle all these genres simultaneously in this ambitious undertaking without any one falling and breaking is a testament to his storytelling skills. --Tom Lavoie, former publisher
Read more about The Impeachment of Abraham Lincoln and Stephen L. Carter in our Maximum Shelf.