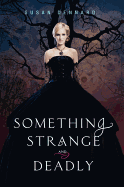 From the sounding of "the Dead alarm" on the first page, readers will be awakened to an 1876 Philadelphia replete with animated corpses, irresistible romance and a game of intrigue.
Narrator Eleanor Fitt awaits the arrival of her brother, Elijah, who's been away for three years, at the Centennial train depot in Philadelphia. One of the walking Dead delivers a cryptic letter to Eleanor informing her that Elijah is stuck in New York and can come home only "if I do what he needs." Eleanor knows her scholarly brother cannot manipulate a corpse, and he has long been pursued for the research and ancient artifacts he's unearthed about theology during his travels through Europe. She must enlist the help of the Spirit-Hunters who are in town to deal with the mysterious necromancer that's controlling the Dead.
A proper high-society girl, Eleanor should not be messing with the Dead, let alone exchanging cut and thrust with low-society boy Daniel Sheridan. But Daniel is the handsome and memorable Spirit-Hunter hired to expel the spirits of the Dead. The tensions between them will please romance readers, while Daniel's clever inventions will appeal to fans of steampunk. But the mission takes precedence over courtship, as Eleanor is occupied by protecting an essential grimoire, banishing a wicked ghost and battling the Hungry--quick, rabid corpses desperate to feed.
Those who enjoy Cassandra Clare's the Infernal Devices series will likely be spellbound by Susan Dennard's macabre and impressive debut, the first in a planned trilogy. --Adam Silvera, reviewer