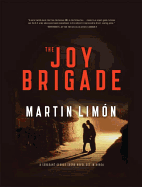 Martin Limón's first seven books starring Sergeant George Sueño focused on his investigations as a military police officer in the Korean DMZ. With The Joy Brigade, Limón sends Sueño on an adventure into North Korea that will test every bit of his strength and intelligence.
The year is 1972: Kim Il-Sung is looking to retire, but he wants to invade South Korea and reunite the Korean nation before handing power over to his son. Sueño is on a secret mission to find his lover, Doc Yong, who fled to North Korea the year before. Doc Yong has an ancient manuscript detailing a secret underground passage from North to South Korea--information that the Americans want to keep from Kim Il-Sung at all costs.
But finding Doc Yong and the manuscript and escaping back to South Korea is no easy matter. As a Latino more than six feet tall, Sueño stands out by a mile, and he will need all the tricks he learned growing up in East Los Angeles to protect him.
Filled with adventure, torture, sex, tae kwon do and suspense, The Joy Brigade moves at breakneck speed as Sueño crisscrosses the North Korean countryside, gathering information and attempting to evade Rhee Mi-Sook, the beautiful head of the North Korean secret police. Capitalizing on the recent interest in North Korea, The Joy Brigade offers a detailed look at the North Korea of 30 years ago, and the lengths to which the U.S. was--or wasn't--willing to go in order to prevent a war. --Jessica Howard, blogger at Quirky Bookworm