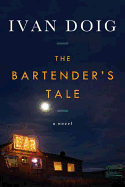 Consummate storyteller Ivan Doig has previously written about Two Medicine County in northern Montana in Work Song and The Whistling Season. It's a place where characters abound and where the ordinary can become extraordinary in an instant because of hostile weather, natural disaster or the sheer orneriness of its denizens--all of which factor in the evocative The Bartender's Tale.
Rusty, the result of "an accident between the sheets," has spent his first six years with an aunt, uncle and hateful cousins in Phoenix after his mother walks out on her four-month-old infant. Then Tom, Rusty's father, fetches him home to Gros Ventre and the Medicine Lodge, its finest bar. In 1960, when Rusty turns 12, Proxy, a former taxi dancer well known to Tom, and her 21-year-old daughter, Francine, appear. Proxy needs a favor: she wants Tom to teach her how to be a bartender.
Rusty and his friend, Zoe, whose parents run the local cafe, respond to this new development as they do everything else in Gros Ventre: by acting out theatrical bits gleaned from the movies--she is Muscles, he is Ace--in vintage Doig patter. Their lives during this magical summer revolve around an area in the bar where they can hear everything but cannot be seen.
A wild card appears in the person of Delano Robertson, who arrives with a grant from the Library of Congress to record the "MissingVoices" of America for posterity. How this all plays out is replete with twists and turns aplenty. --Valerie Ryan, Cannon Beach Book Company, Ore.