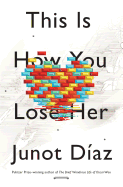 In the story collection This Is How You Lose Her, Junot Diaz (The Brief Wondrous Life of Oscar Wao) returns to familiar territory--an exploration of the trials, triumphs and cultural dissonance of the Dominican community in the U.S. Many of the stories share a common narrator, Yunior, whose parents brought him to America from Santo Domingo as a child. With his sardonic tone and cutting observations, this Yunior is nearly a duplicate of the Yunior who narrates much of Oscar Wao; here, too, Yunior is ultimately undone by his philandering.
This Is How You Lose Her begins with the unraveling of Yunior's relationship with his fiancée, Magda, when she discovers that he's cheated on her with 50 other women. Desperately, Magda and Yunior circle one another, trying to preserve their relationship, and in Santo Domingo--their birthplace and beginning--they finally break apart.
The later stories, the ones that backtrack through Yunior's life to his adolescence, and then to his childhood as an immigrant, gradually expose the roots of his compulsive infidelity. At the end, Yunior admits to himself that Magda was right to leave him; that the book most suited for him to write is "The Cheater's Guide to Love."
Although only one story contains scenes in Santo Domingo, it remains a constant in the characters' awareness, lending them in some sense a double life. Diaz weaves together this aspect of the immigrant experience with the broken narrative of a search for love--a search that cannot end until the protagonist changes himself. --Ilana Teitelbaum, book reviewer at the Huffington Post