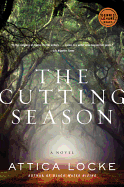 Attica Locke's debut novel, Black Water Rising, garnered prize nominations and a devoted readership. The Cutting Season is just as good. It's set in Louisiana on Belle Vie, a former plantation--now hosting weddings and historical reenactments--that has been anything but a "beautiful life" for many of its inhabitants over the centuries, from slaves and freed blacks to the white family that owns it today.
Caren Gray, the manager of Belle Vie, has connections with the plantation through her slave and freed ancestors. One day, a young Mexican woman working nearby is found with her throat cut. There is no shortage of suspects. As Caren works to remove suspicion from one of the young men working for her, she uncovers evidence that Jason, one of her ancestors who disappeared many years ago, also was murdered. Caren's nine-year-old daughter, Morgan, is also involved, in ways that are slowly and surprisingly revealed. Morgan's father, Eric, arrives when it appears that Morgan might be in danger, and matters quickly become awkward as old feelings resurface. The intertwined murders keep the reader mesmerized and rooting for Caren as she tries to fit the pieces together and understand how this recent murder and that of Jason are connected.
Past, present and an uncertain future must be reconciled. Locke brings it all together by story's end, but not before Caren has come to terms with her own past, her paternity, her love for Eric and her protection of her daughter and her staff--and is ready to move ahead. --Valerie Ryan, Cannon Beach Book Company, Ore.