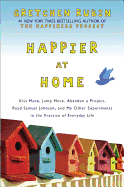 Gretchen Rubin may write about embracing more ways to be happy, but she's no sunshine-blowing saint. She snaps at her kids and husband and procrastinates like the rest of us, then bravely chronicles it all in Happier at Home, a follow-up to The Happiness Project focused on how to capture happiness on the homestead.
Rubin has some novel ideas, from creating special shrines for the things she loves to committing to giving warm goodbyes to each member of her family every time they leave their New York City apartment. An admitted "under-buyer," she doesn't suggest that investing in organization systems is the answer to being happier at home." Instead, she probes deeper into herself to consider what activities and interests light her up and experiments with ways to incorporate them into her home over the course of a year. And unlike others spewing advice, Rubin walks the walk, taking us along on her journey as she personally tests all of these methods out.
Rubin even shares her failures, like her repeated attempts to create a "date night" with her husband. When her efforts are met with frank disinterest, Rubin feels satisfied that at least she gave it a try.
The very best thing about this enjoyable narrative is that it will inspire you to make your own changes at home. Rubin should be commended for doing her part to infuse a little happiness into this world. --Natalie Papailiou, author of blog MILF: Mother I'd Like to Friend